Home » Digital Humanities » Digital Futures, Archaeological Pasts: Student-Curated Exhibition Opens October 25 in Fine Arts Gallery
Digital Futures, Archaeological Pasts: Student-Curated Exhibition Opens October 25 in Fine Arts Gallery
Posted by vrcvanderbilt on Sunday, October 21, 2018 in Digital Humanities, Events, Fine Arts Gallery, HART, News, Student/Alumni, Technology, Vanderbilt University, VRC.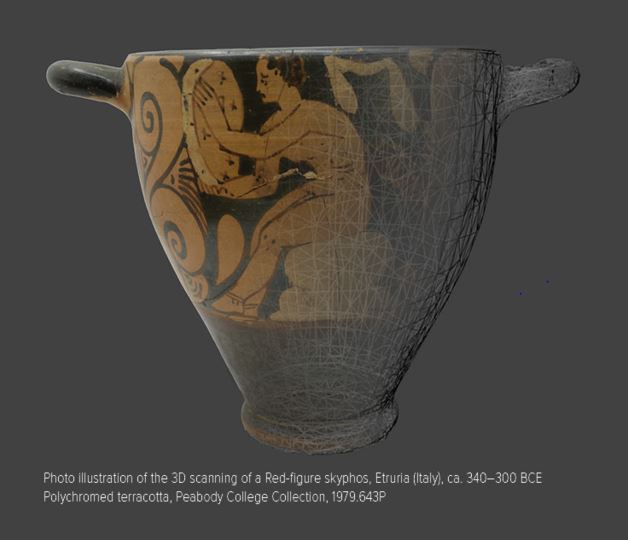 During the spring semester 2018, nine history of art students studied a selection of ancient Mediterranean antiquities in the collection of the Vanderbilt University Fine Arts Gallery. The objects at the center of the exhibit range in date from the sixth century BCE to the first century CE and include Greek and Etruscan vases, a Greek coin, and a Greco-Roman marble sculptural head. In addition to exploring each object's historical context and significance, the students learned photogrammetry, a process for generating digital models of 3D objects through photography. By creating and printing these digital 3D models, students sought insight into how new, digital approaches might facilitate research into, and engagement with, ancient material and visual culture.
Digital Futures, Archaeological Pasts, on view in the Vanderbilt Fine Arts Gallery from October 25 through December 6, is the fifth student-curated exhibition to result from a partnership between the Department of History of Art and the Fine Arts Gallery, this time led by Veronica Ikeshoji-Orlati, CLIR Postdoctoral Fellow for Data Curation. The exhibition, curated by Aleah Davis '21, Joseph Eilbert '19, Brant Feick '18, Lindsay Fraser '19, Kinsley Ray '21, Gabrielle Rodriguez '21, Heaven Russell '21, Kalen Scott '21, and Sarah Taylor '18, is supported, in part, by the Department of History of Art.
An opening reception will be held on Thursday, October 25, from 5 to 7 pm in Cohen Memorial Hall.
The Fine Arts Gallery is located in Cohen Memorial Hall at 1220 21st Avenue South on the Peabody College campus. Gallery hours are from 11 am to 4 pm Monday through Friday, and from 1 to 5 pm weekends. Parking is available in all non-reserved spaces in Lot 95 near Cohen Hall on the Peabody campus.
*Photo illustration of the 3D scanning of a red-figure skyphos, Etruria (Italy), ca. 340-300 BCE. Polychromed terracotta, Peabody College Collection, 1979.643P.
---