Home » Conferences » Betsey Robinson Lectures on Ancient Landscapes at Hollins University Classics Symposium
Betsey Robinson Lectures on Ancient Landscapes at Hollins University Classics Symposium
Posted by vrcvanderbilt on Friday, November 30, 2018 in Conferences, Events, HART, Lectures, News, Vanderbilt University, VRC.
Betsey Robinson, acting chair and associate professor of history of art, was an invited speaker at the annual Hollins University Classics Symposium in Roanoke, VA, on November 8. This year's theme was "Being There–Martial and Mythological Landscapes of Greece." Robinson's lecture, entitled "Musing on Mountain Landscapes in Central Greece," surveyed her ongoing work and recent discoveries on Greek mountains and their ancient sacred and mythological traditions, from Parnassos and Helikon to Arcadian Mount Chelmos and the marvelous waters of the Styx near the peak.
Robinson contrasted eyewitness accounts and imagined views as well as the interplays of religion and reputation in those ancient places. Her talk was paired with another, by Matt Sears of the University of New Brunswick, who focused on ancient battlefields and the experience—and importance—of visiting them, today as in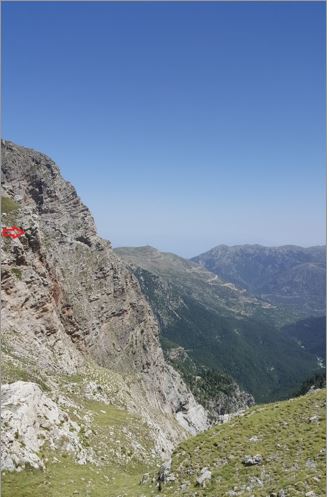 antiquity.
Mount Chelmos, ancient Arcadia, and the real water of the Styx (see arrow–just a trickle by early July).
"That cold water that drizzles down from a steep sky-climbing cliffside, and it is one horn of the Okeanos stream, and travels off that holy river a great course through night's blackness under the wide-wayed earth and … this stream, greatly vexing the gods, runs off the precipice … the imperishable, primeval water of Styx…"  Hesiod's Theogony 775 (transl. Evelyn-White) [8th or 7th century BCE]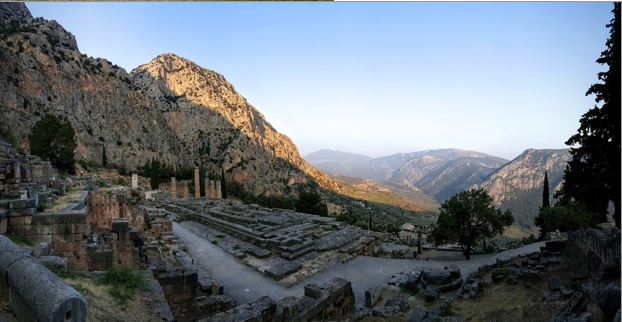 Early sunset, Sanctuary of Apollo at Delphi, on Mount Parnassos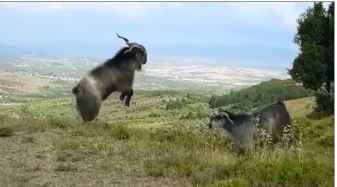 Goats above the ancient theater in the Valley of the Muses, Mount Helikon, Central Greece
---