Home » Events » William Wylie to Lecture November 14 on The Possibility of Ruins: A Pompeii Archive
William Wylie to Lecture November 14 on The Possibility of Ruins: A Pompeii Archive
Posted by vrcvanderbilt on Friday, November 9, 2018 in Events, Fine Arts Gallery, HART, Lectures, News, Student/Alumni, VRC.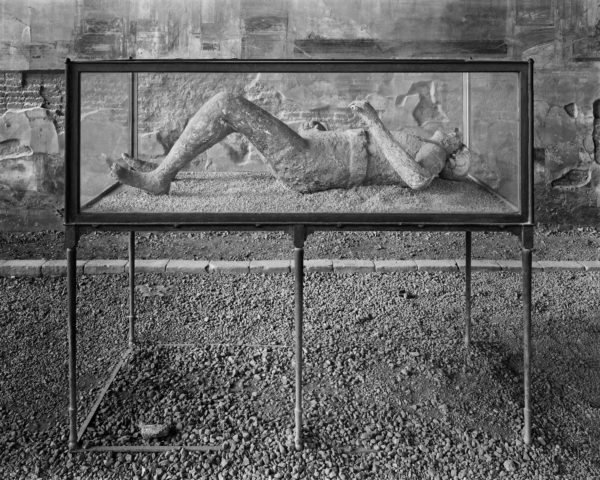 Destroyed by the eruption of Mount Vesuvius in 79 CE, the ancient city of Pompeii has captured the imagination of the public since it was first excavated in 1748. Pompeii Archive: Recent Photographs by William Wylie, currently on view in the Vanderbilt Fine Arts Gallery through December 6, features a selection of recent work by artist and photographer William Wylie (American, born 1957) that explores the famous archaeological site. In conjunction with the Fine Arts Gallery exhibit, Wylie, professor of art, University of Virginia, will deliver a lecture, "The Possibility of Ruins: A Pompeii Archive," on Wednesday, November 14, at 4:10 pm in 203 Cohen Memorial Hall.
"For me, much of the mystery of Pompeii lies in the site's layers," said Wylie. "Archaeologists work by uncovering and studying the deposits of past eras, but even visitors experience the site in this way. I was motivated to try and make photographs that revealed some of Pompeii's complexity, the way multiple pasts intersect there with our 21st-century present."
The exhibition features eighteen large-scale photographs focused on the ongoing process of restoration, discovery and collection of archival remains and materials from the eruption of Mount Vesuvius in 79 CE. Through Wylie's photographs, Pompeii is seen as a constantly changing—not static—archaeological site. Ever curious as to how landscapes accumulate visual markers and meanings, Wylie notes in his artist statement that "change is inescapable at Pompeii. . . .I document the changing relationships between artifacts, ruins, spaces, and the passage of time."
His working method incorporates repeated visits to a site, an immersion in which he gains an understanding of both the cultural and natural landscapes that create place. For the ongoing Pompeii project, Wylie traveled extensively to the archeological site.
Pompeii Archive: Recent Photographs by William Wylie, organized by the Gregory Allicar Museum of Art at Colorado State University, is brought to the Vanderbilt University Fine Arts Gallery, in part, through the generous support of the Program in Classical and Mediterranean Studies, with additional support provided by the Department of History of Art and the Department of Art.
The Fine Arts Gallery is located in Cohen Memorial Hall at 1220 21st Avenue South on the Peabody College campus. Gallery hours are from 11 am to 4 pm Monday through Friday, and from 1 to 5 pm weekends. Parking is available in all non-reserved spaces in Lot 95 near Cohen Hall on the Peabody campus.
§
*William Wylie. Body cast, Macellum (VII.9.7), Pompeii," 2015, archival pigment print, 37 x 45 inches
---