Home » HART » HART Majors: Apply for Spring 2019 Downing Research/Travel Grants by February 15
HART Majors: Apply for Spring 2019 Downing Research/Travel Grants by February 15
Posted by vrcvanderbilt on Thursday, January 31, 2019 in HART, News, Student/Alumni, Vanderbilt University, VRC.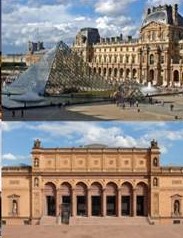 Vanderbilt's History of Art majors are encouraged to apply for a spring 2019 Downing grant by Friday, February 15. The department awards these Downing grants for travel to exhibitions and research centers to supplement academic instruction for HART majors who are enrolled in the Honors Program, in advanced seminars, or in upper-level "W" (writing) courses. These grants, which provide assistance for up to $1,500 in travel costs, are awarded in the fall and spring of each academic year.
The application should consist of a detailed proposal of one page explaining the purpose and rationale of the proposed travel; projected costs (accommodation, food, travel expenses, and research costs); and a supporting letter by the instructor in charge of the project.
Applications for the spring 2019 Downing grants must be submitted by email to julia.kamasz@vanderbilt.edu no later than Friday, February 15.
Past Downing Grants have supported travel for research on photojournalism in post-war Berlin, a Marcel Duchamp installation in the Philadelphia Museum of Art, the Elgin marbles from the Parthenon in the British Museum, and a Gothic reliquary in the Louvre, among others. HART's most recent Downing grant recipients, Liz Horner and Michelle Zhu, used the grant to travel to New York and Germany (Hamburg, Dresden and Bertlin) respectively to gather research for their Honors theses.
---