Home » Events » Sarah Madole Lewis to Lecture on a Tyrian Battle Sarcophagus on January 24
Sarah Madole Lewis to Lecture on a Tyrian Battle Sarcophagus on January 24
Posted by vrcvanderbilt on Wednesday, January 16, 2019 in Events, HART, Lectures, News, Vanderbilt University, VRC.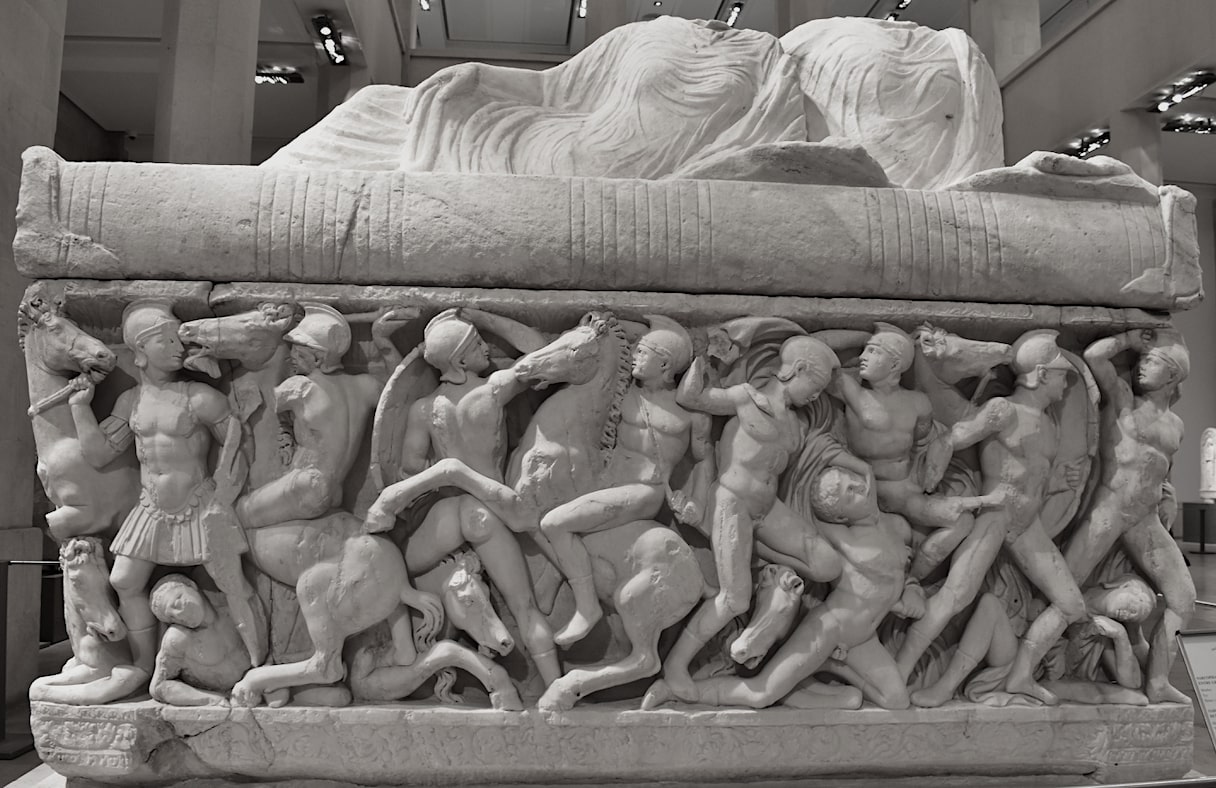 Sarah Madole Lewis, assistant professor of art history, Borough of Manhattan Community College, CUNY, will present a lecture on Thursday, January 24, at 4:10 pm in Cohen Hall 203, with a reception to follow in the atrium. The lecture is entitled "A Third-Century Battle Sarcophagus in Tyre: Love and War in Roman Syria."
Lewis will consider a monumental sarcophagus found in Tyre, a wealthy city in the Roman province of Syria. Scenes of battle from the Trojan War decorate the sarcophagus chest, and the owner-couple recline on the couch-shaped lid. Thus, the heroic, manly scene is juxtaposed with an expression of marital unity and love. The sarcophagus type, which is connected with the Attic tradition, and its imagery, carried a particular expression of identity politics in the Roman world, in Tyre and other provincial spheres, such as Ephesos. Lewis will examine the Tyrian sarcophagus in light of related regional and interregional funerary monuments in its third-century context, a time of war and political upheaval in the eastern provinces of the Roman Empire.
Lewis received her Ph.D. from the Institute of Fine Arts, New York University in 2012. Her primary area of expertise is in the art and archaeology of the ancient world, with a specialization in Roman sarcophagi, regional contexts and social experience. In recent years she has held a faculty development grant for research in Lebanon. In support of her research on sarcophagi and catacombs in Rome, Lewis received a Franklin Grant from the American Philosophical Society and was named Shohet Scholar of the International Catacomb Society. Her research has taken her from Spain to Syria and everywhere in between, most consistently to Italy, Greece and Turkey.
Sponsored by the Program in Classical and Mediterranean Studies with the support of the Department of History of Art, her lecture is free and open to the public. Parking is available in all non-reserved spaces in Lot 95 near Cohen Hall on the Peabody campus.
---