Home » Fine Arts Gallery » Fine Arts Gallery Exhibit on Five Centuries of Woodcuts Closes Friday, March 1
Fine Arts Gallery Exhibit on Five Centuries of Woodcuts Closes Friday, March 1
Posted by vrcvanderbilt on Monday, February 25, 2019 in Fine Arts Gallery, HART, News, Vanderbilt University, VRC.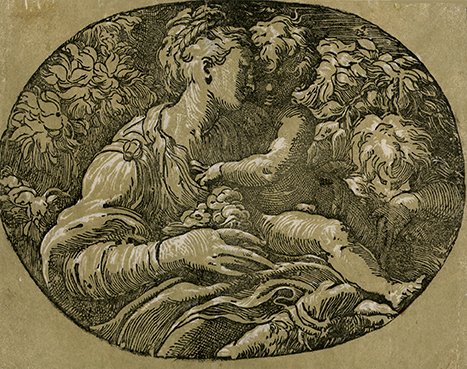 Then & Now: Five Centuries of Woodcuts—on view through Friday, March 1—features more than forty prints from Vanderbilt's collections, surveying the wide range of woodcuts created over 500 years and across many cultures. Together, these works speak to the arresting potential of the woodcut medium and its persistent place in contemporary art.
The Vanderbilt Fine Arts Gallery is housed on the second floor of Cohen Memorial Hall on the Peabody campus. Gallery hours for viewing the exhibit during its final week are 11am to 4pm Monday through Friday.
Beginning with Michael Wolgemut's Presentation of Jesus in the Temple (ca. 1491), the exhibition continues its survey through 16th-century examples by the Northern Renaissance master of the medium Albrecht Dürer, a student of Wolgemut, as well as works by other prominent German artists, including Lucas Cranach the Elder, Hans Baldung Grien, and Albrecht Altdorfer.
Spotlighting printmaking practices outside of Germany are chiaroscuro woodcuts by Italian artists Ugo da Carpi, one of the first practitioners of this early form of color printmaking, and Antonio Fantuzzi da Trento, as well as an example by Netherlandish artist Paulus Moreelse. Also on view is a recently conserved 17th-century woodcut, Hercules Overcoming Envy, by Christoffel Jegher after a design by Peter Paul Rubens—often considered to be one of the most important works in the history of printmaking.
The 19th century is represented by The Works of Geoffrey Chaucer, a rare, large-scale volume printed in 1896 by William Morris, with magnificent engraved illustrations by Edward Burne-Jones, on loan from Vanderbilt's Jean and Alexander Heard Libraries, Special Collections and University Archives.
Moving into the 20th century, the exhibit includes stark images made by German Expressionists Gerhard Marcks and Conrad Felixmüller in the wake of WWI; and an animated woodcut film, produced in recent years by contemporary artist Jay Bolotin.
A concurrent presentation of works in Gallery 2, curated by Vanderbilt University Fine Arts Gallery Intern Echo Sun (art and psychology major, Class of 2020), focuses on Japanese woodblock prints from the nineteenth and twentieth centuries. This companion presentation to Then & Now: Five Centuries of Woodcuts includes editions by artists Katsushika Hokusai, Utagawa Hiroshige, Tsukioka Yoshitoshi, Kiyoshi Saito, and Takahashi Hiroaki (Shotei), among others.
Curated by Joseph Mella, gallery director, the exhibit is free and open to the public. Parking is available anywhere in Lot 95 on the Peabody campus, accessible from 21st Avenue South.
*Antonio Fantuzzi da Trento (Italian, 1510–1550). The Virgin, Christ Child, and Saint John the Baptist, after Parmigianino (Italian, 1503–1540), ca. 1540-1550, chiaroscuro woodcut on woven paper, 7-3/8 x 9-1/4 inches,The Anna C. Hoyt Collection, Vanderbilt University Fine Arts Gallery.
---