Home » Conferences » Christopher Johns to Present Paper at International Conference in Lisbon
Christopher Johns to Present Paper at International Conference in Lisbon
Posted by vrcvanderbilt on Tuesday, March 26, 2019 in Conferences, Events, HART, Lectures, News, Vanderbilt University, VRC.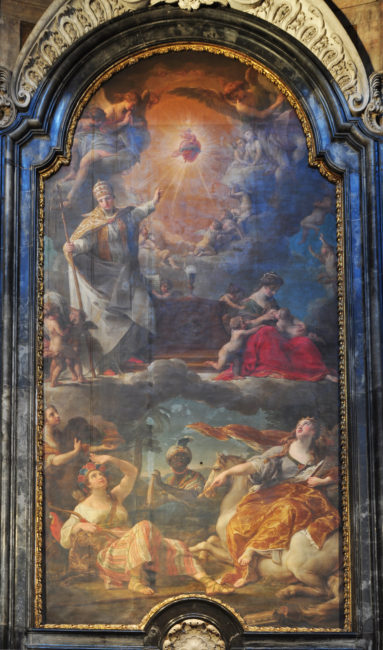 Christopher Johns, Norman L. and Roselea J. Goldberg Professor of History of Art, will deliver a paper on March 28 at the International Conference of the National Library of Portugal in Lisbon. His paper is entitled "Queen Maria I, Pope Pius VI, and the Sacred Heart of Jesus: Lisbon, Rome, and the Counter Enlightenment." The overall theme of the conference is "Rome and Lisbon in the Eighteenth Century: Music, the Visual Arts, and Cultural Transfer."
Johns will examine the political and religious policies of Queen Maria I of Portugal (reigned 1777-1816) in the context of the construction and decoration of the Basilica of the Estrêla in Lisbon, the first church in the world dedicated to the Sacred Heart of Jesus.  The Queen's support for the Sacred Heart devotion was shared in Rome by Pope Pius VI, who granted the Portuguese court's request to extend the Cult of the Heart to Portugal and its empire.
Pompeo Batoni, Europe's most celebrated painter, was commissioned for a series of seven grand altarpieces for the new basilica.  The subjects chosen are allegorical and mystical in nature, countering currents in Enlightened Catholicism that emphasized service and social utility over mystical revelation as the truest form of devotion.  Indirectly, Maria and Pius were expressing support through visual culture of the Jesuits, who had been abolished in 1773 but who would be reinstated by the Papacy after the fall of the Napoleonic Empire in 1816.
A few days before leaving for Lisbon, Johns presided at the Presidential Address by Melissa Hyde, University of Florida, on March 22 at the annual meeting of the American Society for Eighteenth-Century Studies held in Denver.
*Pompeo Batoni's Universal Devotion to the Sacred Heart of Jesus, the high altarpiece for the Basilica of the Estrêla, 1781, which is still in situ.
---