Home » Conferences » Parthenon2 Symposium March 28-30: Digital Approaches to Architectural Heritage
Parthenon2 Symposium March 28-30: Digital Approaches to Architectural Heritage
Posted by vrcvanderbilt on Friday, March 22, 2019 in Conferences, Digital Humanities, Divinity School, Events, HART, HART in Nashville, Lectures, Nashville Arts, News, Technology, Vanderbilt University, VRC.
Dorina Moullou, an archaeologist with the Hellenic Ministry of Culture and Sports, will deliver the keynote lecture for the upcoming symposium PARTHENON2: Digital Approaches to Architectural Heritage on Thursday, March 28, at 6 p.m. at the Nashville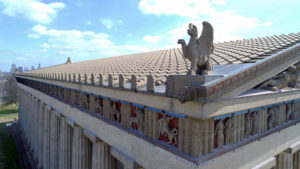 Parthenon, Centennial Park. Her lecture is entitled "On the Sacred Rock: The Athenian Acropolis from the Drawing Board to the Digital." Organized by Betsey Robinson, acting chair and associate professor of history of art, the symposium will continue on Friday and Saturday (March 29-30) at 9 a.m. in the Reading Room of Vanderbilt Divinity School and feature an exciting array of scholars applying advanced digital technologies to the study and documentation of historical architecture around the world.
"As the 'Athens of the South,' Nashville has long prided itself as a city of humanistic inquiry and world heritage," said Robinson. "This symposium builds upon this local tradition and an active community of Vanderbilt researchers working in digital studies of architecture and art, space and place, and cultural heritage."
Because the original Parthenon now stands in ruins in Athens, the Nashville Parthenon is a tremendous resource not only for local scholars and students, but also for archaeologists who come from around the world to experience the architecture, art, and effects of space and light in this 1920s scale model of the original. In 2006, an international symposium at the Parthenon considered "Architecture, Sculpture, and Politics in Ancient Athens." PARTHENON2 follows that tradition, taking Nashville's Parthenon as a venue, a subject of study, and a springboard for a broader discussion of digital methods in architectural heritage studies and beyond.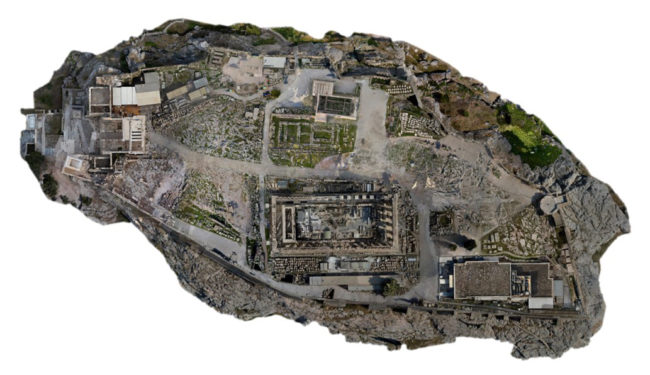 The Acropolis of Athens is the "most striking and complete ancient monumental complex in existence, an architectural treasure that belongs not only to Greek patrimony but to worldwide cultural heritage," said Moullou, who will discuss the efforts of topographic and photogrammetric recording of the Acropolis from 1975 until today. In particular, she will focus on the 3D recording of the Acropolis and its monuments in the project, Development of Geographical Information Systems on the Acropolis of Athens.
Moullou will review the 900,000-euro project, describing the techniques used for data acquisition and processing (both geodetic and photogrammetric) and presenting results and deliverables.Today the tremendous value of this project is apparent in the published and posted results (https://acropolis-gis.ysma.gr/), and by the fact that the data have already been used in other research and restoration work, connected mainly with the fortification walls and the underlying rock of the Acropolis.
Her lecture is sponsored by the PARTHENON2 Symposium, along with the Archaeological Institute of America and the Conservancy for the Parthenon and Centennial Park.
The symposium will feature four sessions, three to be held on Friday, March 29, addressing Multimodal Research on Buildings and Settlements; Applied Photogrammetry; and  Parthenon2 (Pedagogy and Funding Digital Heritage Studies). On Saturday, March 30, the fourth session will focus on Virtual Architectures/Global Perspectives.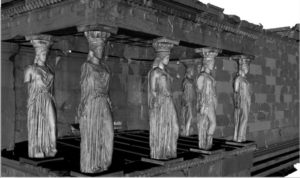 All innovators in digital heritage studies, the invited speakers will discuss their creative use of tools and methods such as photogrammetry, digital modeling/rendering, virtual reality, spatial analysis, and interaction geography to better understand and explain premodern architecture and urban landscapes around the world, as well as the human experiences within them. Formal research presentations will alternate with discussion sessions and informal demonstrations, allowing participants and audience to discuss theoretical and methodological problems, and to strategize about research design, best practices, teaching, and sharing results with the public.
The PARTHENON2 Symposium is sponsored by Vanderbilt University Research Scholar Grant Program, Trans-Institutional Digital Cultural Heritage Cluster, Vanderbilt Institute of Digital Learning, Vanderbilt Center for Digital Humanities, Mellon Faculty Fellowship in Digital Humanities, Department of History of Art, and Vanderbilt Initiative for Interdisciplinary Geospatial Research.
For more information, email keitlyn.alcantara@vanderbilt.edu or betsey.a.robinson@vanderbilt.edu or see PARTHENON2: Digital Approaches to Architectural Heritage.
*Nashville Parthenon (courtesy of the Conservancy for the Parthenon and Centennial Park); Orthomosaic, Athenian Acropolis (courtesy D. Moullou); and 3D model, Erechtheion, Acropolis, Athens (courtesy D. Moullou)

---