Home » Events » Hazel Dodge to Deliver AIA/Kress Alumni Lecture on April 9
Hazel Dodge to Deliver AIA/Kress Alumni Lecture on April 9
Posted by vrcvanderbilt on Thursday, April 4, 2019 in Events, HART, Lectures, News, Vanderbilt University, VRC.
A visit to Roman sites in the Mediterranean is memorable not only because of the scale of the buildings and their survival, but also because of the noticeable use of a wide range of decorative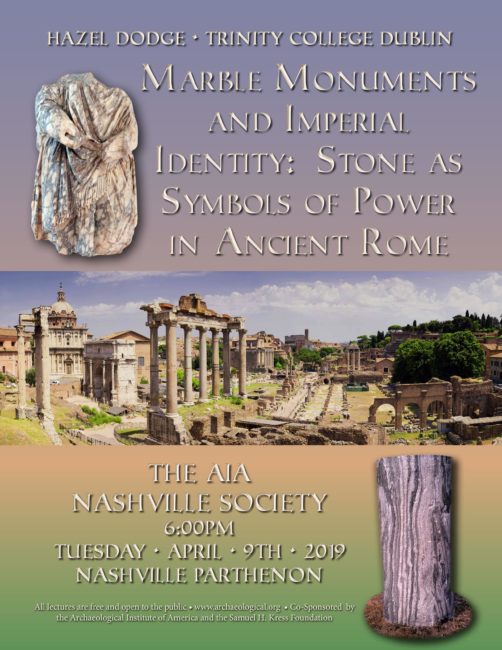 stones, both white and colored. On Tuesday, April 9, at 6 pm in the Nashville Parthenon, Hazel Dodge will deliver an AIA/Kress Alumni Lecture entitled "Marble Monuments and Imperial Identity: Stone as Symbols of Power in Ancient Rome." Dodge is the Louis Claude Purser Senior Lecturer in Classical Archaeology with Trinity College, Dublin.
The Romans employed these decorative stones in both public and private buildings on an unprecedented scale, being prepared to quarry them in huge quantities and transport them the length of the Mediterranean and beyond.  This practice had its origins in the capital of the empire, where initially these stones were brought back to Rome as spoils of war and used by triumphant generals to advertise military victories and to enhance their political position.  Later, the emperors' building projects transformed this exploitation to a level of activity never seen before or since.
In her lecture Dodge will examine not only the technology involved in the quarrying and transport of these resources, but also the ideologies of imperial power and the role these stones played in transforming not only the city of Rome but also the other cities of the Roman Empire.
Dodge focuses her research on construction techniques and the building technology of the Roman Empire, especially in the eastern Mediterranean. She is interested in the quarrying, transport, distribution and use of decorative stones in the Roman world; ancient spectacle and the buildings which were developed to accommodate the different types of entertainment; and urbanization in the ancient world, particularly the development of the City of Rome.
Free and open to the public, the lecture is cosponsored by the Nashville Society of the Archaeological Institute of America (AIA) and the Samuel H. Kress Foundation. Those who plan to attend the lecture are encouraged to call the Nashville Parthenon at 615.862.8431 to reserve a seat. The Parthenon is located at 2500 West End Avenue in the Centennial Park.
---