Home » HART » Kevin Murphy Interviewed on CBS and Other News Outlets About Notre Dame Cathedral
Kevin Murphy Interviewed on CBS and Other News Outlets About Notre Dame Cathedral
Posted by vrcvanderbilt on Friday, April 19, 2019 in HART, News, Vanderbilt University, VRC.
Kevin Murphy, professor of history of art, was among the art historians worldwide who watched in disbelief as international news outlets broadcast live images of the massive fire that ravaged the iconic Notre Dame Cathedral in central Paris on Monday, April 15. Murphy, an architectural historian, was interviewed that afternoon and the days following by several news anchors and journalists, beginning with a Monday evening interview on CBS News with Elaine Quijano under the heading "Massive Fire Burning Through Notre Dame Cathedral in Paris."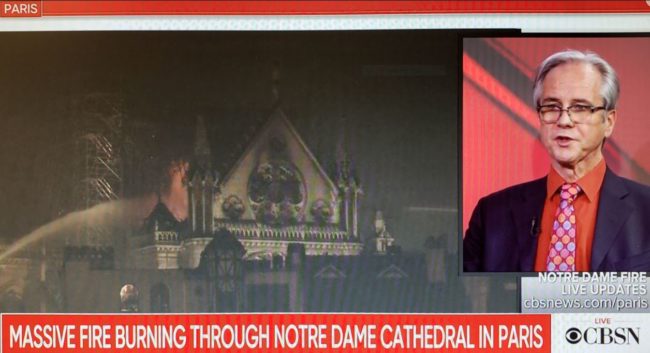 Murphy discussed the architecture and history of the cathedral as "an iconic monument of the Gothic style," which had survived more than eight centuries and several wars, not to mention its profound symbolic value. As the week progressed, subsequent interviews with Murphy focused on the restoration and rebuilding of Notre Dame Cathedral and the immense challenges of such an undertaking..
Is it possible to rebuild Notre Dame Cathedral after such a devastating fire? Such was the focus of Murphy's interview with Tanya Rivera on CBSN at the top of the program on Tuesday, April 16, at 1 pm. That same day the Rick Gibbons Show (1310 News) in Ottawa featured an interview with Murphy during the second hour of the program.
Richard Lough included Murphy's quote in this Reuters piece, "Old financing dispute hangs over Notre-Dame blaze donations," published on April 16. "There was a continual cry for funds (in the 19th century) because the needs were so great for a building of that size. Necessarily it required enormous expenditures of money just to maintain it," said Murphy.
Designing the rebuild will see two competing forces run up against each other, he said. "Imperative one is to preserve the building as an icon of French architecture, and the other is to make it serviceable for its purposes as a place of worship."
Emily Tamkin published her article on April 16 in the Washington Post, "What cathedrals are vulnerable to burning quickly and take a long time to rebuild," in which she quoted Murphy. "I think what people should understand is the ingenious approach by medieval builders," he said. "The technology of the building is not, of course, technology that we use anymore. In some cases, the actual technology has been under debate for centuries. Trying to understand how it was built is not straightforward."
Kelly McLaughlin at INSIDER published her piece on Wednesday, April 17, "Emmanuel Macron announced plans to rebuild Notre-Dame in 5 years, but it could take much longer," and frequently quoted Murphy. Lori Hinnant interviewed him for an AP (Associated Press) story that ran on April 17: "66 minutes: The frantic race to save Notre Dame." That AP article has been picked up by hundreds of outlets across the country, including TIME Magazine (online), under the title "Paris Fire Fighters Only Had 66 Minutes to Save Precious Notre Dame Artifacts."
Coverage on CNBC regarding the restoration of the cathedral aired on April 17. Murphy was quoted in this piece, "Restoration of the Notre Dame Cathedral could take years and cost upward of $1 billion, experts say," which has been published in 90 or so additional publications. "The timber that was used [in the roof] was cut down hundreds of years ago from forests that don't exist anymore in the quantity they would need for that huge of a structure," Murphy noted. "It would be difficult if not impossible to obtain timber on the scale that was in the roof."
Murphy taped an April 17 interview with the BBC from Oxford and another with the radio station WTOP in DC, which aired that same day.
Blair Kamin interviewed Murphy for his April 18 article in the Chicago Tribune entitled "The French announce a design contest for Notre Dame's destroyed spire: Inspired idea or publicity stunt?"  Viollet-le-Duc's Notre Dame spire, Murphy told Kamin, replaced one that was in bad condition and was taken down in the 1780s. With the new spire, Murphy said, Viollet-le-Duc sought to achieve a sky-piercing exterior expression of the awe-inspiring Gothic verticality that may not have been achievable when the building was constructed in the 12th and 13th centuries. "It was about height and lightness, also the position of the cathedral in the city, marking that important institution," Murphy said.
What about the possibility that Viollet-le-Duc's spire might be replaced with a different design? posed Kamin. "I'm attached to his work," Murphy replied. On the other hand, "the building as it exists has a very long history. There's nothing pure about it. It's been altered and restored over the course of many centuries…It might be interesting to see a proposal for a spire that was compatible with the building but at the same time spoke to our own time the way Viollet-le-Duc's did."
Then, Murphy added, "It could be horrible." The stakes are indeed high.
*The Department of History of Art wishes to thank Spencer Turney, Media Relations and Strategic Communications Specialist, and Ann Marie Deer Owens, Senior Public Affairs Officer, both with Vanderbilt News and Communications, for their role in scheduling Kevin Murphy's interviews with the news media and providing us with the links.
---