Home » HART » Rebecca VanDiver Awarded 2019 NEH Summer Stipend
Rebecca VanDiver Awarded 2019 NEH Summer Stipend
Posted by vrcvanderbilt on Wednesday, April 17, 2019 in HART, News, Vanderbilt University, VRC.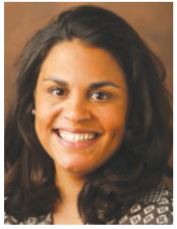 The National Endowment for the Humanities has awarded Rebecca VanDiver, assistant professor of African American art, a 2019 Summer Stipend for $6,000. VanDiver is in the early stages of research for her second book manuscript on twentieth-century African American art that addresses the notion of impermanence. Her working title is States of Emergency: Politics of Ephemerality in African-American Art Practices, 1965–2015.
"In this new project, I will examine the ways in which African American artists working during the past 50 years have engaged with ideas of ephemerality, producing temporary materials like prints and posters as well as larger-scale projects, like site-specific community murals," VanDiver said. "An example of that would be the Wall of Respect that existed on Chicago's South Side from 1967 to 1981."
She will use the NEH funding to conduct primary source research for the first chapter, which will focus on prints and posters made in connection with the 1960s civil rights movement and the early black feminist movement.
"For this research, I am using a somewhat broader definition of the word ephemera," VanDiver said. "While the word is traditionally defined as something fleeting and transitory, I am expanding the definition to include the news media as a vehicle for ephemerality."
The latter half of her book will focus on how African American contemporary artists such as Kara Walker and Titus Kaphar have responded to the 24-hour news cycle by producing permanent works of art.
VanDiver, who came to Vanderbilt in the fall of 2013, teaches courses on modern/contemporary African American and African art and visual culture. Her research, centered on 20th-century black women artists, African American artistic engagements with Africa, and the politics of exhibition and display, has appeared in American Art, Archives of American Art Journal, Space and Culture, Callaloo, and Transition. The Pennsylvania State University Press is publishing her book-length manuscript on the artist Loïs Mailou Jones under the title Negotiating Traditions: Loïs Mailou Jones and the Composite Aesthetics of Blackness.
The NEH Summer Stipends program is highly competitive. The awards to VanDiver and another Vanderbilt professor, Phillip Lieberman, assistant professor of Jewish studies, classical and Mediterranean studies, religious studies and law, were the only ones in the state of Tennessee this year.
*See Ann Marie Deer Owens' article (May 13, 2019) in "Research News @Vanderbilt"
---