Home » Events » Yvonne Boyer to Highlight Floral Selections from the Library's French Collections
Yvonne Boyer to Highlight Floral Selections from the Library's French Collections
Posted by vrcvanderbilt on Friday, April 5, 2019 in Events, HART, Lectures, News, Vanderbilt University, VRC.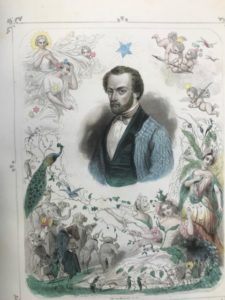 From romance to revolution, flowers flourish as an important part of French culture.  The flower is a significant symbol of France, as its cultivation and the delights of an aromatic bouquet can be found throughout literature.  During the spring semester, it is the season to cultivate the Library collections for their significant blossoms–a rite of spring.
On Wednesday, April 10, Yvonne Boyer, Librarian for Art, History of Art, French & Italian, and the WT Bandy Center for Baudelaire & Modern French Studies, will discuss floral selections from the French collections, from poetry to artists' books, specifically the works of the influential nineteenth-century illustrator, J.J. Grandville. Boyer's talk, entitled Les Fleurs du Printemps: Selections from the French Collections, will begin at 11:10am in the Special Collections Reading Room on the second floor of the Central and Divinity Libraries building.
*llustration from J.J. Grandville's Les fleurs animées (1847), courtesy of the Special Collections Library, Vanderbilt University
---