Home » Events » Department to Celebrate HART Graduates at Reception and Awards Ceremony on May 9
Department to Celebrate HART Graduates at Reception and Awards Ceremony on May 9
Posted by vrcvanderbilt on Tuesday, May 7, 2019 in Events, Fine Arts Gallery, HART, News, Student/Alumni, Vanderbilt University, VRC.

History of Art majors and minors and their families and friends are invited to attend the department's reception and awards ceremony for our graduating seniors on Thursday, May 9, from 2 to 4 pm. The event will be held in the atrium of Cohen Memorial Hall on the Peabody campus, and awards will be presented at 2:30 pm.
Graduates and their families also are invited to view the current exhibits in the Vanderbilt Fine Arts Gallery near the atrium from noon to 4:00 pm as well as in the display cases in the atrium itself.  Closed on Commencement Day (Friday, May 10), the gallery will be open on Saturday, May 11, from 1 to 5 pm.
On view in the Fine Arts Gallery now through September 13, Refuting "Noble Savages": Reflections of Nature in Ancient Mesoamerican Artifacts features a collection of ancient Latin American artifacts curated by undergraduate students as part of a semester-long course taught by Markus Eberl, associate professor of anthropology. The exhibition focuses on the connection between nature and culture among Pre-Columbian Mesoamerican people (ca. 500 to 1500 CE). The artifacts on view elucidate their daily life and beliefs.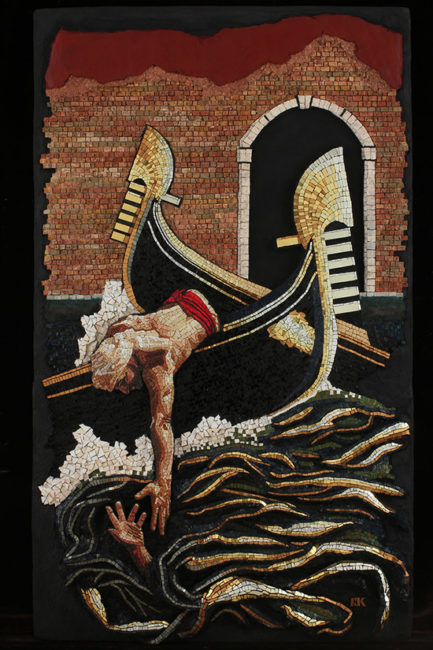 Embodied: Mosaic Arts International 2019 Invitational, on view in the gallery through May 25, features figurative works by five renowned mosaic artists working today: Lilian Broca (Canada), Shug Jones (United States), Michael Kruzich (United States), Atsuko Laskaris (Japan), and Carol Shelkin (United States). The contemporary mosaics attempt to capture the personal histories, preserved memories, and emotional occurrences of everyday life. Through meticulous manipulations of glass, stone and ceramic, these detailed works achieve a dynamic range of color, texture and reflectivity. Their durable materials and methods do not stray far from those of antiquity. Neither do their stories: Scenes presented in the mosaics share timeless themes of love and family, conflict and war, spirituality and society.
Illuminated manuscript (literally "hand written") books are arguably the most characteristic objects of the European middle ages, but contemporary artists have also responded to the challenge of making a book by hand. Inspired by those traditions, each of the students of HART 2288, Art of the Book, taught by Elizabeth Moodey, associate professor of history of art, chose a favorite text and acted as both patron and artisan for the books on view in one of the display cases in the atrium.
The Fine Arts Gallery is located in Cohen Memorial Hall at 1220 21st Avenue South, on the western edge of the Peabody College campus. Parking is available anywhere in Lot 95 on the Peabody campus, accessible from 21st Avenue South.
Gallery hours for the summer (now through August) are Tuesday-Friday, noon to 4 pm; and Saturday, 1-5 pm. The gallery will be closed on Sundays and Mondays during the summer.
*Cohen Memorial Hall, floor detail; Michael Kruzich (American, b. 1964). Refuge, 2017. Stone, Italian smalti, and gold. 60 x 36 inches.
---