Home » Conferences » Kevin Murphy and Rebecca VanDiver Attend "Worlds of Print" Symposium
Kevin Murphy and Rebecca VanDiver Attend "Worlds of Print" Symposium
Posted by vrcvanderbilt on Thursday, May 16, 2019 in Conferences, Events, HART, News, Vanderbilt University, VRC.
Kevin Murphy, professor of history of art and department chair, and Rebecca VanDiver, assistant professor of African American art, recently participated in a symposium addressing the theme The Worlds of Print.  Held at the University of California, Santa Barbara, the joint Vanderbilt-UCSB symposium was the culmination of a year-long Robert Penn Warren Center for the Humanities seminar organized by Murphy and Mark Hosford, associate professor of art and department chair. VanDiver was among the Warren Center Fellows participating in the interdisciplinary faculty seminar entitled The World of Print(s): Multiples and Meanings in Early Modern Europe and North America.
On the panel entitled "Print as Reuse," Murphy presented a paper on "The Material Life of Ephemeral Print." Under the panel heading "Print as Pedagogy, Appropriation, and Protest," VanDiver's paper was entitled "Papers of Protest: Print in the Civil Rights Movement."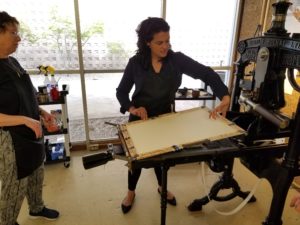 Visiting Warren Center scholar Patricia Fumerton, professor of English at UCSB, organized the symposium to generate conversation between participants in the Warren Center seminar and scholars of early modern print culture at UCSB. Participants attended a two-part print workshop on composing and setting montage; and printing montage. The group discussed each other's work and collaborated on a print combining text and images selected by all the symposium participants.
Rebecca VanDiver receives instruction in the UCSB Makers' Lab on setting moveable type (above); VanDiver prints on a traditional manual press at USCB, coached by Patricia Fumerton, who was a 2018-19 visiting fellow at the Robert Penn Warren Center for the Humanities (below).
---