Home » Events » Betsey Robinson Leads Vanderbilt Tour from Rome to Sicily and Malta
Betsey Robinson Leads Vanderbilt Tour from Rome to Sicily and Malta
Posted by vrcvanderbilt on Thursday, June 20, 2019 in Events, HART, Lectures, News, Vanderbilt University, VRC.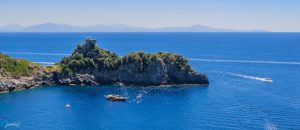 Betsey Robinson, acting chair and associate professor of history of art, grew up in Massachusetts and began her archaeological career with deep-sea exploration between mainland Italy and Sicily and work in paleontology and history of science. This month Robinson, a Mellon Faculty Fellow in Digital Humanities, is returning to the Mediterranean to introduce Vanderbilt alumni and friends to the mélange of cultures that flourished in the wake of ancient empires on this cruise to the shores of Italy, Sicily and Malta. Offered from June 20 to 28 by the Vanderbilt Travel Program, the tour from Rome, Italy, to Valletta, Malta, is entitled "Ancient Empires: A Voyage from Rome to Malta."
The tour affords the unique opportunity to travel with Robinson, a classical archaeologist and art historian, and a small, intimate group to seven UNESCO World Heritage sites. Italy's stunning Amalfi coast and the colorful seaside town of Sorrento await the travelers. Robinson's lectures will provide insight into Roman life of 79 CE in the superbly excavated town of Pompeii, Sicily's storied town of Taormina, the legendary city of Syracuse, and Agrigento's majestic Valley of the Temples. The tour concludes with Malta and its rich history, the island nation where Saint Paul was shipwrecked.
Since 1997 Robinson has conducted research at the Corinth Excavations of the American School of Classical Studies at Athens. She is currently working on projects on waterworks and ancient mosaics at Corinth as well as a new book on sacred Greek mountains and sanctuaries and their reflections in the art and literature of Rome and Constantinople.
*Amalfi Coast (courtesy of Wikimedia Commons)
---