Home » Events » Fine Arts Gallery Features Ceramics of Susan DeMay June 13-September 13
Fine Arts Gallery Features Ceramics of Susan DeMay June 13-September 13
Posted by vrcvanderbilt on Tuesday, June 11, 2019 in Events, Fine Arts Gallery, HART, Lectures, News, Vanderbilt University, VRC.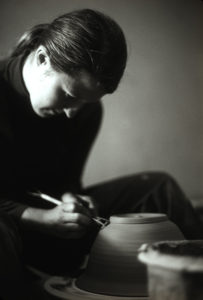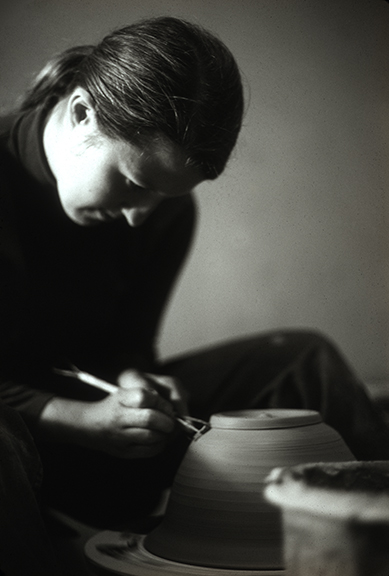 Susan DeMay began pursuing ceramics as a graduate student at what was then called the George Peabody College for Teachers, where she studied art from 1977 to 1979. After earning her M.S. degree and establishing a pottery studio of her own, she was invited to return to the Vanderbilt campus to teach. Nearly forty years later, she will be celebrating her retirement as a professor in Vanderbilt's Department of Art. Opening June 13 in the Vanderbilt University Fine Arts Gallery in Cohen Memorial Hall, Divergent Practices: A Career in Ceramics surveys ceramics that DeMay, principal senior lecturer, produced over decades of teaching, running her own production line, and creating artwork in clay.
On view through September 13, the exhibition showcases selections from three bodies of work that DeMay has developed over the years. The first are pieces made for classroom demonstrations, which underscore technical methods as well as aesthetic considerations. The second group represents the colorful production works that DeMay fabricated while running a pottery business, with the help of up to nine assistants. The third includes a suite of ceramics that are slab-constructed forms with unique surface treatments and hard, glassy glazes. These artworks are inspired by a wide-ranging set of visual references, as well as traditional ceramic practices.
At her closing artist talk, "Making and Teaching Ceramics: Not Just for Fun," on August 9, DeMay will discuss her work and life, expanding on why making and teaching ceramics were not "just for fun"—a phrase she encountered often in her long and multifaceted career. The talk will begin at 5 pm in Cohen Memorial Hall, room 203, with a reception to follow in the atrium.
The Fine Arts Gallery is located in Cohen Memorial Hall at 1220 21st Avenue South, on the western edge of the Peabody College campus. Parking is available anywhere in Lot 95 on the Peabody campus, accessible from 21st Avenue South.
Gallery hours for the summer (now through August) are Tuesday-Friday, noon to 4 pm; Saturday, 1-5 pm; closed Sunday and Monday.
*Kinchi Fukumoto. Susan DeMay trimming a bowl in her studio at Peabody College, 35mm slide (reproduction), 1978.
---