Home » HART » HART Graduate Maris Paden Travels on a Downing Grant to View Vigée Le Brun's Paintings
HART Graduate Maris Paden Travels on a Downing Grant to View Vigée Le Brun's Paintings
Posted by vrcvanderbilt on Friday, June 14, 2019 in HART, News, Student/Alumni, Vanderbilt University, VRC.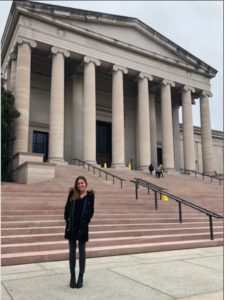 I had the honor of receiving a 2019 Downing Grant to supplement my research for the advanced seminar, HART4960: Art & Politics during the Revolutionary and Napoleonic Era. My focus was the career of the eighteenth-century French painter Élisabeth Vigée Le Brun during her stay in Italy. The Downing grant enabled me to travel to Washington DC as well as New York City during my spring break.
I visited the National Gallery, the National Museum for Women in the Arts, and the Metropolitan Museum of Art to see firsthand the works of Vigée Le Brun. Additionally, I spent an afternoon at The Phillips Collection, MoMA and The Frick Collection. To pursue my love of art history and represent Vanderbilt in two such phenomenal cities was a dream come true.
Due to her monarchical ties, Vigée Le Brun's life was threatened by revolutionary violence in 1789. The painter took the political and social unrest as an optimal opportunity to fulfill her long-held dream of studying in the artistic capital of Rome. She embarked on what would become a twelve-year journey, painting portraits in mostly aristocratic circles across Europe. Her stay in Italy (1789 to 1792) marked a highly prolific period for the artist where she produced many of her most well-known works.
To Vigée Le Brun, as with many artists before her, Rome embodied the very ideal of classical art. She was invigorated by the works of Correggio, Michelangelo, and Raphael, among others, as well as the landscape of Mount Vesuvius, the gardens of Tivoli, and more. Her style was both fortified and transformed by her years in Italy. The new setting offered her not only refuge but also an opportunity to challenge herself among the great masters. Her canvases from this period greatly bolstered the artist's reputation and career.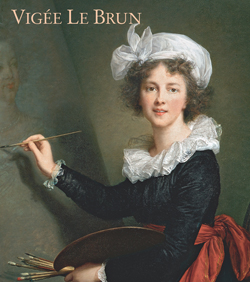 Though we can learn much through the available literature on the artist, the experience of viewing a painting in person is unrivaled. The ability to be inches from the very canvas that this figure breathed upon is invigorating and offers an unparalleled intimacy. As I analyze and internalize her brush strokes and palette, I am transported through the centuries. For a brief instant, Vigée Le Brun is not more than two hundred years deceased. She and I exist in the same moment of time and connect through the tangible masterpiece before my eyes. From the confines of her frame, her vitality supersedes the bounds of physics and reaches me. It is this ethereal experience that powered me through my research. It is this transportive quality that compels me toward the fine arts day after day. It is this didactic passion that the Downings foster in their grantees.
I am forever indebted to the History of Art Department for cultivating in me an insatiable appetite for the arts. It propelled my love of museums into an academic sphere where I want to spend the majority of my time. From our breathtaking classrooms of Cohen Memorial Hall, to the outstanding faculty, to the support of the Downing family, my four years in the department have fundamentally changed me as a student, a thinker, and an individual. I offer my most sincere thank you to the Downings for their generosity, and to my advisor and mentor, Prof. Christopher Johns. I too hope that one day I am able to give back to the department that has done so much for me.—Maris Paden, BA'19 (history of art and medicine, health & society)
---