Home » HART » Matthew Worsnick Awarded Fellowship at the Wolfsonian-Florida International University
Matthew Worsnick Awarded Fellowship at the Wolfsonian-Florida International University
Posted by vrcvanderbilt on Wednesday, June 5, 2019 in HART, News, Vanderbilt University, VRC.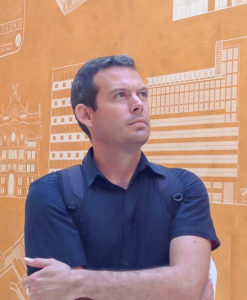 Matthew Worsnick, assistant professor of the practice of art history, was recently awarded a residential fellowship at the Wolfsonian-Florida International University, Miami Beach, for the summer of 2020. The fellowship program supports projects from a wide range of academic fields to promote scholarly research on The Wolfsonian's collection. Fellowships are awarded for full-time research at the museum, generally for periods of 3–4 weeks.
The Wolfsonian-FIU collections include objects dating from 1885 to 1945 that illustrate "the persuasive power of art and design, to explore what it means to be modern, and to tell the story of social, political, and technological changes that have transformed our world. It encourages people to see the world in new ways, and to learn from the past as they shape the present and influence the future."
Trained as an architect (MA, Columbia) and an architectural historian (PhD, New York University), Worsnick teaches courses in design studies, global architectural history, memorials, and the architect's toolkit. His research explores the use of built space for political aims, both in the contexts of New York City and in southeastern Europe. He is currently revising a book manuscript, tentatively entitled, "Ambivalent Lines: Urban and Architectural Appropriations in Contested Italo-Yugoslav Territories, 1918-1954," which explores the ways that those in Fascist Italy and Yugoslavia employed strategies of architecture to claim contested territory.
As a Mellon Foundation Fellow in MoMA's Department of Architecture and Design, Worsnick worked on the exhibition, "Toward a Concrete Utopia: Architecture in Yugoslavia, 1948-1980," and contributed to a companion volume published to coincide with the exhibition (July 15, 2018-January 13, 2019).
---