Home » Events » Sheri Shaneyfelt Leads Denver Commodore Classroom in Study of Leonardo da Vinci
Sheri Shaneyfelt Leads Denver Commodore Classroom in Study of Leonardo da Vinci
Posted by vrcvanderbilt on Wednesday, June 5, 2019 in Events, HART, Lectures, News, Student/Alumni, Vanderbilt University, VRC.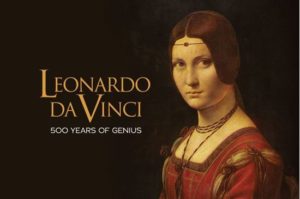 The Denver Museum of Nature & Science provided the perfect setting for a May 2019 Commodore Classroom featuring Sheri Shaneyfelt, principal senior lecturer of the history of art and director of undergraduate studies, and the current exhibit Leonardo da Vinci: 500 Years of Genius. Shaneyfelt joined the Denver Vanderbilt Alumni Chapter on May 19 to discuss the extraordinary life and legacy of Leonardo da Vinci, inventor, artist, scientist, anatomist, engineer, architect, sculptor, and philosopher.
On view through August 25, the exhibit blends art and technology into a symphony of light, color and sound, creating breathtaking effects that bring Leonardo's works to life.
---