Home » Digital Humanities » Student-Curated Gallery Exhibit Features Ancient Mesoamerican Artifacts
Student-Curated Gallery Exhibit Features Ancient Mesoamerican Artifacts
Posted by vrcvanderbilt on Friday, June 7, 2019 in Digital Humanities, Fine Arts Gallery, HART, News, Student/Alumni, Technology, Vanderbilt University, VRC.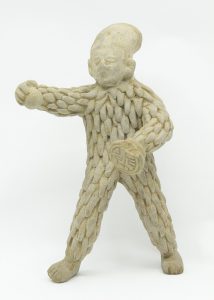 Held in conjunction with the celebration of our 2019 HART graduates was the opening reception for a student-curated exhibition entitled Refuting "Noble Savages:" Reflections of Nature in Ancient Mesoamerican Artifacts. On view through September 13, the exhibit features a collection of ancient Latin American artifacts curated by undergraduate students as part of a semester-long course (Exhibiting Historical Art—Daily Life in Mesoamerica) taught by Markus Eberl, associate professor of anthropology. The exhibition focuses on the connection between nature and culture among pre-Columbian Mesoamerican peoples (ca. 500 to 1500 CE), with the artifacts on view elucidating their daily life and beliefs.
This exhibition challenges the term "noble savages," a reference to Western portrayals of ancient Mesoamerican peoples in a subdued and romanticized form. In reusing this out-of-date term, the student-curators aim to draw attention to its racially-charged connotation, while presenting an opposing view that focuses on the diversity of everyday practices in Mesoamerica. City dwellers and farmers, mothers and children, ballplayers and creators are all showcased here. Their lives were grounded in sophisticated religious beliefs and exquisite knowledge of their environment.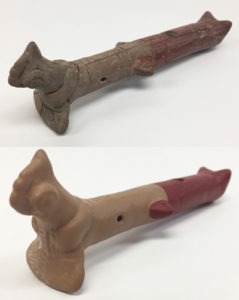 Eberl and the Fine Arts Gallery staff collaborated with the Vanderbilt University Institute of Imaging Science (VUIIS) to scan and replicate three objects from the exhibit. With the inclusion of interactive elements, including 3D artifact-replicas that invite hands-on discovery, the viewer is invited to join us in a multi-sensory exploration of ancient Mesoamerica.
This student-curated exhibition is the result of a partnership between the Department of History of Art and the Vanderbilt University Fine Arts Gallery. The undergraduate students include Baha Aydin, Kaitlin Joshua, Elsa Mueller, Kirsten Nafziger, Bella Smith, Sophie Stark, Yunyang Zhou, and Michelle Zhu. 3-D imaging and printing of ancient artifacts was made possible thanks to Anna Fisher, John Gore, Todd Peterson, Seth Smith, and Ken Wilkins at the Vanderbilt University Institute of Imaging Science. Other  sponsors are the Department of Anthropology, the Department of History of Art, and the Center for Latin American Studies.
The Fine Arts Gallery is located in Cohen Memorial Hall at 1220 21st Avenue South, on the western edge of the Peabody College campus. Parking is available anywhere in Lot 95 on the Peabody campus, accessible from 21st Avenue South.
Gallery hours for the summer (now through August) are Tuesday-Friday, noon to 4 pm; Saturday, 1-5 pm; closed Sunday and Monday.
*Ball Player in Warrior Bird Costume, Pre-Columbian, Classic Period, 600–800 CE, The Marjorie and Leon Marlowe Collection, Vanderbilt University. 
**The Imaging Institute scanned the ancient flute, top, and created a 3D-printed replica, below, which was then painted by Eberl's undergraduate students.
.
---