Meet Tugba Gursel Sevin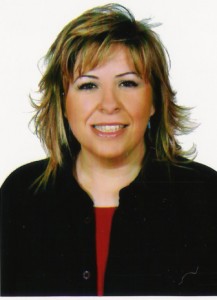 Tugba Gursel Sevin feels very lucky to have grown up in a multilingual family and environment in her native land, Turkey.  She pulled from her own experiences of learning Spanish as a non-native speaker and applied that to being a language and literature teacher to other students whose first language was not Spanish.  While she now has the challenge of dreaming in Spanish, writing in English and thinking in Turkish, she enjoys her position as Assistant Professor of Spanish because it brings together her passion for teaching and language.
Jessica Parks-Piatt: Tell me about how you got to Vanderbilt from Turkey.
Tugba Gursel Sevin: When I was in middle and high school, I studied at the Italian school directed by Catholic nuns.  While I was learning Italian, I developed an interest to learn Spanish and eventually decided to pursue that as my career.  All of my family are medical doctors and so I chose a very different path.  I now have a total of twenty years of teaching experience.  I taught Spanish in Turkey for many years and wrote the Turkish nationaI curriculum in Spanish.  I accepted an invitation from Florida Atlantic University to complete my master's degree and teach there.  After that, I wanted to continue on with my studies.
I began my doctoral studies at the Department of Spanish and Portuguese at Vanderbilt to work with my advisor, Dr. Edward Friedman, on my dissertation topic.  I feel very lucky to have met him.  He has always been very supportive.  I was the first and only Turkish student in the department, and now I am the only Turkish who holds a Ph.D. in Hispanic Studies and works as an Assistant Professor of Spanish in the United States.
JP-P: How did your degree and other experiences while at Vanderbilt help prepare you for your current career?
TGS: At Vanderbilt, I learned a lot.  I worked as a graduate teaching assistant and taught different levels of Spanish Language and Culture courses to undergraduate students. I attended many workshops which taught me advanced teaching techniques and new approaches in second language teaching.  There are several factors that helped me in my current career: I have taught foreign languages many years, I implemented and coordinated several Spanish courses, I prepared the Curriculum for Teaching Spanish as a Second Language to be applied in every Turkish middle and high school, I have a Master of Arts of Teaching Spanish degree from Florida Atlantic University, and I received the doctoral degree from Vanderbilt.  The degree was really the culmination of passion for language and teaching.
I also attended many conferences where i presented papers about different aspects of my research.  Vanderbilt always encouraged and supported me on these conference trips.
JP-P: What are some tips that you have for students in their first year or two in their programs?
TGS: I suggest that doctoral students begin their studies knowing their research interest because time passes very quickly.  If you know your interest, you can take courses accordingly and begin researching books and materials related to your topic.
Take advantage of all the resources at Vanderbilt.  I suggest that you explore in detail the Vanderbilt Library research resources.  The library offers a wide selection of resources and the staff are extremely helpful.  I remember taking a course about Library Resources and it helped me very much when writing my dissertation.  My other suggestion would be to attend workshops, lectures, meetings offered at Vanderbilt because they teach you new and improved information.
Also, I would suggest presenting at conferences as early as possible because at the conferences a graduate student learns how to talk in public, learns about the research topic and also makes good connections by meeting new faculty and students from other universities.
JP-P: What are some key tips that you have for students at the end of their graduate programs?
TGS: 1) Please have a good portion of your dissertation written by the time that you apply for job. Because the job application process is long and time consuming, it is very likely that you will not have the necessary time and energy to focus on your writing during this process.
2) Defend your dissertation before beginning your job because you will not have time later.
3) While you are working on the job application process, meet Dr. Ruth Schemmer, Assistant Dean for Career Development at the Graduate School and learn about the resources that Vanderbilt offers you in this strategic period.
4) Don't be stressed, know your qualifications, be confident of yourself, do your best and wait for what life brings to you.
JP-P: What were some of the challenges that you faced in preparing for your job search and career?  How did you overcome them?
TGS: At the beginning of the job search I was confused because every university application requirement and system was different.  It took some time to adjust myself to it.  I knew that I had to have ready basic application materials like letter of interest, curriculum vitae, statement of teaching philosophy, students' evaluations, sample course syllabus, etc.  But I was not sure what powerful letter of interest would be and how a CV had to be organized.  At that point I decided to visit Dr. Ruth Schemmer.  I scheduled an appointment with her and that day my perspective about my future has changed to a more positive one.  I feel very luck for having the opportunity to meet Dr. Ruth Schemmer.  As every graduate student in the process of job applications, I was confused.  She listened to my concerns very carefully, asked about my qualifications and helped me tailor my documents to highlight my strengths which were my knowledge of several languages, my extensive teaching experience of second language, the uniqueness of my dissertation topic, my experience in implementing new courses and writing the curriculum for teaching Spanish as a second language.  I learned from her that the job application process can be joyful and nourishing.
JP-P: Any last thoughts?
TGS: I feel very privileged for working on my dissertation with my advisor Dr. Edward Friedman.  The degree from Vanderbilt offers a prestigious recognition.  Now, I am doing what I love.
Tugba's Fun Facts!
Current city: Weatherford, OK
Current position: Assistant Professor of Spanish at Southwestern Oklahoma State University
Degree program: Hispanic Studies
Favorite professor: Edward H. Friedman, my advisor.  I came to Vanderbilt just to work with him.  He has been my mentor from the first day and forever.
Favorite Nashville restaurant: Noshville
Favorite place to work: My house in a quiet, sunny room that was designated only for my studies.
If you would like to learn more about Tugba and her work at Southwestern Oklahoma State University, send her an email.