Meet David Wiseman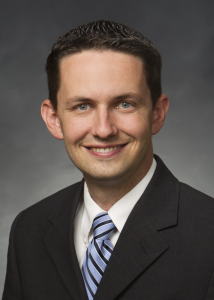 David Wiseman has enthusiastically explored his interests. From translating to editing to teaching, he has passionately pursued any opportunity to further his professional development, and it has served him well. His diversity of experience has allowed him to have many different positions. Instead of following a traditional career path, he has created one.
Jessica Parks-Piatt: You actually started a professorial position before graduating. Tell me a little more about that.
David Wiseman: Yes. I graduated in December 2010 and started an assistant professor position at Lewis-Clark State College (LCSC) in the summer of 2009. For that year and a half, I taught and worked on my dissertation. I definitely did not intend to do that. I wanted time and space to focus solely on completing my dissertation, so we moved our family to New Mexico after my third year in the program. In route, I checked my email and had a message from a former professor at Brigham Young University (BYU), where I received my undergraduate and master's degrees. He had forwarded an announcement for a job opening at LCSC, and said that he thought I might be interested. Truthfully, I wasn't really interested in taking a job at that time, but I applied anyway. Then I was offered the position and ended up teaching and writing my dissertation at the same time. I stayed at LCSC for five years, just long enough to get tenure. It was an amazing experience, but the program was very small—there are only two languages taught, Nez Perce and Spanish, and the only degree option for Spanish is a minor. Due to its small size, my one colleague in Spanish (Martin Gibbs) and I had a lot of freedom to shape the program. The college is very student-focused and was supportive of our efforts to promote student activities. As a result, the Spanish program doubled in size while I was there. We had some rockin' bad poetry nights!
JP-P: So how did you transition into your current position as a librarian at BYU?
DW: The librarian position looked like a dream job for me, and most of my family is in Utah, so that was also appealing. It's one of the best libraries in the country, and that type of position also allows me to work in a lot of different areas and dabble in a variety of scholarly interests instead of getting pigeonholed into a single research track. Now, apart from my own projects, I also live vicariously through the research of the professors and students I support. Since I don't have a formal course load, I am able to focus my complete attention on service and mentoring. Also, the library is a great setting to work in if you love to learn, which I do. Along with my library responsibilities, I also serve as the Director of Communications for the American Association of Teachers of Spanish and Portuguese (AATSP), which has complemented my work as a librarian.
JP-P: You have done a lot of different things! Tell me how you got into the Director of Communications position at the AATSP.
DW: I had started editing at BYU on a number of student journals. While at Vanderbilt, I worked as the Assistant Editor of the Afro-Hispanic Review, under the director of Dr. William Luis, and as Associate Managing Editor of Decimonónica (among other editing roles). These experiences eventually led to a position with the AATSP as Managing Editor of Hispania, the association's flagship journal, from 2010 to 2013. After that, I kind of created my current Director of Communications position. I saw a need and proposed the position as a solution. Working with the AATSP has been an amazing experience! In the early years, it also supplemented my income at LCSC to make it financially feasible to continue working there. It also helped me to transition to my library position.
This might sound crazy, but I have more changes ahead. I will actually begin law school at BYU in the fall of 2015, and will only continue working in the AATSP position. Going to law school has been in the back of my mind for a while, and although it doesn't make a lot of sense right now, I have had strong impressions that this is the right thing to do. In the end, life is bigger than a job, and it will work out for the best. Honestly, most of my educational and career decisions have been based upon prayer and personal feelings that the next step is the right one. I guess you could call it gut intuition, but I believe that the direction of my life has often been divinely led. And, so far, it's worked out for me. As for the future, I don't know where this will all lead, but I think that my language background and diverse professional experiences will combine well with the training I will receive in my JD program.
JP-P: How did your degree and other experiences while at Vanderbilt help you get into these positions?
DW: Well, the library job was totally off the radar while I was studying at Vanderbilt. Throughout my program I taught language courses, and I really loved it, so a teaching professorship was a natural fit. Although there were many other demands on my time, I really focused on improving my teaching throughout my graduate studies, which turned out to be a very practical decision. The reality of the market right now is that many students are trained to be content experts in their field, but most don't end up getting jobs at research institutions. During my five years at LCSC, for example, I only taught two literature classes.
My editorship with the Afro-Hispanic Review certainly led to the Managing Editor position with Hispania and later opportunities with the AATSP.
I was also co-organizer of a conference while at Vanderbilt and learned how to direct these types of academic events. That experience was very useful in growing the Spanish program at LCSC through similar activities. It also led to another editing project with Pablo Martínez Diente, a collected edition of the conference proceedings titled Border Crossings: Boundaries of Cultural Interpretation (Nashville: Center for Latin American Studies, 2009).
I also translated teaching modules created by the IRIS Center (Peabody College) into Spanish. I really enjoyed working with everyone in that Center, and the interdisciplinary connections proved to be very important. It demonstrates your ability to work in different capacities, and that diversity opens up more career options.
JP-P: What are some key tips that you have for students just beginning their graduate programs?
DW: When I first started my PhD program, I was totally overwhelmed, and I didn't feel like I belonged there. I just had to remember that I was accepted for a reason, and I went to work. It's a long road and not a sprint. Eventually, you feel more comfortable, and you start to recognize your unique role and what you can contribute to the field.
Also, I think it is important to take advantage of learning from everyone and everywhere. I learned as much talking daily with James, one of the janitors on campus, as from any professor. It's not always about titles and formal curriculum. With that said, Vanderbilt has some of the best academic programs in the country. Take each class seriously, even if it's not in your direct field. Having those additional insights will help later.
JP-P: What about tips for those that are finishing their programs and looking at the job market?
DW: I've had the opportunity to be on many search and screen committees, and the current market in academia is challenging. There are hundreds of applicants, all from great programs, demonstrating intellect and potential. That being the case, I think you have to be open to less-traditional academic routes. Things might work out exactly as you plan, but probably not. Either way, I am convinced that you have to add on some sort of market value beyond what everyone else already has. With a more diverse background, you are qualified for more jobs. And, if you end up in a situation where you have to just accept a job, learn everything you can from that position. You might end up loving it! Even if you do eventually move to another position, the experience you gain from any job can be invaluable to your future professional work.
Think creatively! Anticipate changes in your field and find niches that need to be filled. My position at the AATSP was one that I proposed because I saw a need and was willing to fill it. And so, in a way, learning diverse skills has given me the freedom to create my own professional space. Many of these skills were developed through volunteer service. It's hard to be working for free on top of your school work, but you have to put in the time. Paid positions and stipends come later after you've proven yourself. For me, putting in the sacrifice early allowed me to do things outside of the norm. If you can get experience with digital humanities or scholarly communications, I think those are important fields for the future. And maybe you guess wrong in predicting the future, but learning something new is never a wasted effort.
There are endless opportunities for professional development. When you take the time to diversify your skillset, you look increasingly attractive to employers. They will start recruiting you instead of you searching for a job. But this takes time, so don't wait around for your dream job. Create experiences that will prepare you for the future, and when other opportunities come, you will be ready for them.
JP-P: What did you find to be the biggest challenge when transitioning to out of the graduate program and into a career?
DW: My job search was not very typical. I only applied to one teaching position and got it. What I did find hard was endurance. My wife and I married young, and we had four children by the time I defended my dissertation. Despite the obvious financial challenges, we decided not to take out debt for schooling ever. Somehow, we did it! Making the commitment not to spend money was hard, but it provided significant financial freedom afterward. Just getting through the program was also an endurance test. Balance can be elusive. I had to remember that graduate school was only one part of my life, and that I needed to develop in other areas as well. That has also been a focus throughout my professional career.
JP-P: Any last thoughts?
DW: Work hard and keep dancing! There will be difficult days, but it will all work out for the best.
David's Fun Facts!
Current city: Provo, UT
Current position: Latin American and Iberian Studies Librarian at Brigham Young University and Director of Communications for the American Association of Teachers of Spanish and Portuguese (AATSP)
Degree program: Hispanic Literature (Portuguese Minor)
Favorite professors: William Luis, Edward Friedman, and Earl Fitz, among others
Favorite Nashville restaurant: Out in Antioch, there's a Mexican restaurant called El Arroyo, and we went there all the time for the cheap nachos. They were huge, so we would split them. They actually increased the price because we went there so often. Ken's Sushi near campus was also an important part of my experience at Vanderbilt. William Luis and I would go there often to talk about research and work on the Afro-Hispanic Review.
Favorite place to study: Besides doing research at the library, I wrote a lot outside when the weather was cooperative, usually on a bench next to the Divinity School quad.
If you would like to learn more about David and his work, send him an email.