Mentors
International Student and Scholar Services (ISSS) is looking for motivated undergraduate and graduate/professional students to be mentors to incoming international students for the Fall 2019-2020 School Year.
By being an iLEAD mentor, you'll have the opportunity to mentor groups of 8-15 new students, lead discussion groups, and volunteer during New Student Orientation, plan social and cultural programming for new students and broaden your leadership and group facilitation skills. You'll also be part of a talented and diverse cohort of iLEAD Mentors!I
2019-2020 Mentor Application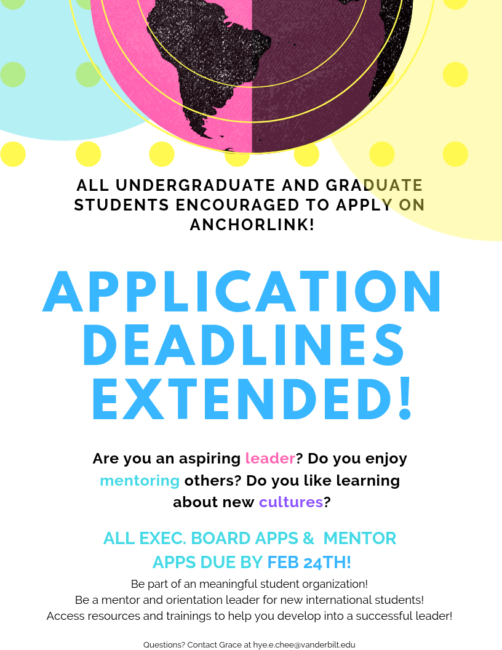 Apply online here! 
Overview
The Office of International Student and Scholar Services (ISSS) is now accepting applications for Fall 2019 iLEAD Mentors. iLEAD student mentors are current international and US students who volunteer and are selected based on their experience and enthusiasm to build a welcoming environment to Vanderbilt for all incoming international students, even before they arrive at Vanderbilt. We are looking for both graduate and undergraduate (sophomores and up) level students.
To be eligible, interested students must have been a student at Vanderbilt for at least 1 academic year, must submit the Anchor Link application (along with recommendation) by the deadline, and must complete an in-person interview.
Responsibilities
Serve as peer leaders for a group of 8-15 new students, focusing on group dynamics and one-on-one peer mentoring
Communicate with assigned students by email prior to their arrival and act as a resource
Assist with International Student Orientation and all orientation activities
Join a student organization that works to create relevant and engaging programming for new undergraduate and graduate international students
Develop skills in leadership, group facilitation, mentoring and cross-cultural awareness
Application Timeline
January 8 | Mentor/Executive Board Applications go LIVE
January 17 | 3:30 PM–Mentor/Executive Board Interest Meeting @ Sarratt 361
February 24th | Applications CLOSE
February 25-28th | Mentor and Executive Board In-person Interviews
March 1st | Position Offers Extended