Inaugural MuMS seminar — Linda Petzold, Oct. 9, 2014
Posted by iacovecr on Tuesday, October 7, 2014 in Events, News.
The inaugural MuMS seminar will be given by Professor Linda Petzold, a world-renowned computational and computer scientist, from the Departments of Computer Science and Mechanical Engineering at UC Santa Barbara. Professor Petzold is a member of the National Academy of Engineering and the recipient of many honors (Profile of Professor Petzold). Professor Petzold's talk is entitled "The Emerging Roles and Computational Challenges of Stochasticity in Biological Systems"
Date: Thursday, October 9
Time: 9:30 am, refreshments prior to the seminar at 9 am.
Location: Jacobs Believed in Me Audirorium (room 134) in Featheringill Hall
Also, please join us at the MuMS Open House following the seminar, from 2:30-4:30 pm at 1102 17th Ave South, Suite 200.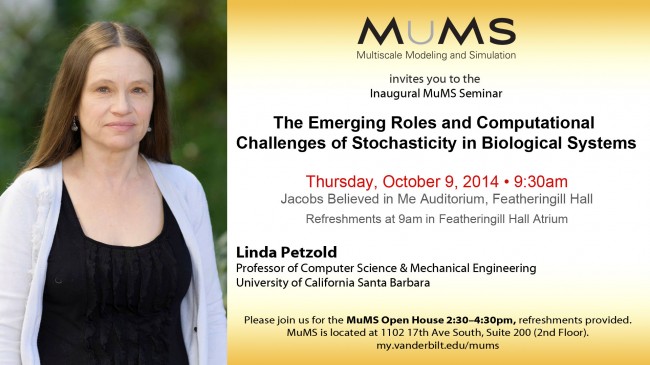 ---