District Awards for Teacher Excellence Program: Year One Evaluation Report
April 2010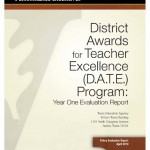 District Awards for Teacher Excellence (D.A.T.E.) is a state-funded program in Texas that provides grants to districts for the implementation of locally-designed performance pay plans. All districts in the state are eligible to receive grants, but participation is voluntary. As D.A.T.E. continues in its second year of operation with approximately $197 million in state funds during the 2009-10 school year, it stands alone as the sole state-funded performance pay program in Texas.
This report presents findings from the first year of D.A.T.E. (2008-09 school year), with emphasis on program participation decisions made by districts, the local design preferences for performance pay plans, and the early implementation experiences of D.A.T.E. participants. The first round of incentive awards for educators and other allowable grant funds were distributed in D.A.T.E. schools from May 2009 to February 2010, allowing evaluators to begin further examination of program outcomes to be presented in a later evaluation report.
Related Files
To view the executive summary for the DATE Year One Evaluation Report, please click here.
To read a copy of the DATE Program: Year One Evaluation Report, please click here.