Welcome!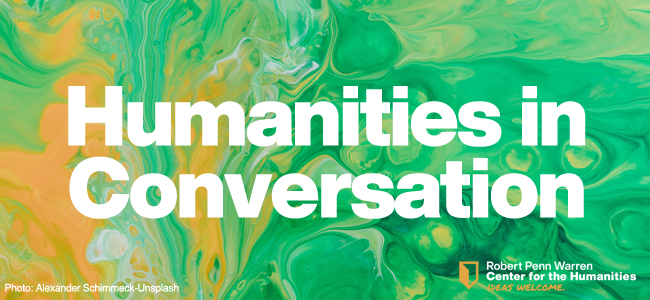 ---
Holly Tucker, Director of the Robert Penn Warren for the Center of Humanities.
---
Welcome to our new blog, Humanities in Conversation!
As director of the RPW Center, the best part of my job is getting to sit down with students, faculty, staff, administration, and community leaders at the historic Vaughn Home on the Vanderbilt campus.  I learn so much from listening to your thoughts on the ways the humanities have shaped – and continue to shape – their work and lives.
Be assured, these meetings are still taking place. For now, they're taking place mostly on my computer screen in the former guest room, now office, of my house. But no matter where things happen, our conversations together continue to shape the ongoing work of the Humanities Center and our shared commitment to building a better world through research, teaching, and public engagement in the humanities and the humanistic social sciences.
That's what I hope this blog will be. A place where everyone is always welcome to stop by, share a story, and participate in enriching conversation.
Here, you might learn about a little-known figure from history or see how to view past and current events through an entirely new lens. Maybe you'll discover a great book that provides an escape while challenging a long-held perspective. Or perhaps you'll discover an upcoming community event that will enable you to turn your ideals into action.
Each week, we'll post short articles covering a wide spectrum of humanities-related topics. This year we are especially interested in pieces that focus on the following themes:
Imagining Cities
Social Justice
Science + Humanities
Career Diversity
Public Humanities
We'll also be using our blog to help you get to know some of the Fellows who are affiliated with the Warren Center—as well as some of the speakers participating in our many upcoming events and seminars.
It's your voices that we want to amplify. If you're interested in contributing a piece to our blog, email Terry Tripp (terry.tripp@vanderbilt.edu) for guidelines with "Humanities in Conversation" in the subject line.
Whether you're a reader, a contributor, or both, we hope you'll be inspired and engaged as you join us in conversation.
Talk to you soon!
Holly
---
Holly Tucker is the Director of the Robert Penn Warren Center for the Humanities and Mellon Foundation Chair in the Humanities.