Home » News » Intelligent Resilient Infrastructure Systems (IRIS) Project Continues To Make Strides
Intelligent Resilient Infrastructure Systems (IRIS) Project Continues To Make Strides
Posted by anderc8 on Friday, June 9, 2017 in News, TIPs 2016.
Written by Alessandro Fascetti, Ph.D., Post-Doctoral Research Scholar
The Vanderbilt IRIS Initiative continues to grow at a rapid pace. The research group has made significant progress towards the definition of a new concept of intelligent and resilient infrastructure systems, that organically interact (i.e. inform as well as adapt to demands) with local communities and decision makers in order to function efficiently and effectively.
The team has defined the purchase of an Unmanned Aerial Vehicle (UAV) that will mount a LiDAR sensor. This innovative system will allow for the real-time scanning of the Flood Protection System (FPS) Infrastructure, in order to define 3-D Digital Elevation Models (DEM) that will allow for a better understanding of both global and local geometrical features of the infrastructure. The UAV+LiDAR technology is very new and will be tested by the IRIS group to understand its capabilities.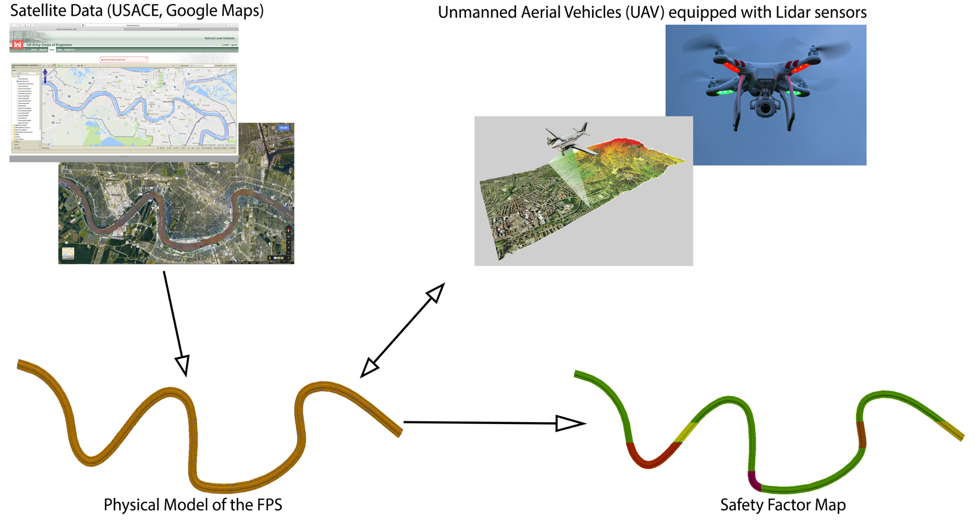 Several advancements have been made on all the aspects of the project:
Physical Modeling: A coupled transport-mechanical lattice model has been defined, granting the capability of modeling FPS and the internal degradation processes connected to erosion;
Resilience Assessment: A comprehensive database of past incidents to FPS infrastructure has been compiled, highlighting the driving scenarios and possible criticalities. The interdependencies between different infrastructure systems are a critical factor for the resilience assessment and will be taken into account in the modeling;
Environmental Remote Sensing: A monitoring campaign has been designed, exploiting the capabilities of the UAV+LiDAR technology;
Cognitive Modeling: Several experiments have been carried out, showing miscalibration of the judged probability by the participants. The next steps involve the assessment of the influence of expertise in the probability judgment;
Information Technology: All acquired data will be available to communities and decision makers by means of an ad-hoc platform that will guide the user through the available information.
Great attention is also being devoted to the educational activities connected to the project. The involvement of undergraduate students in the research is one of the objectives of the initiative, as well as the engagement in teaching, by the definition on new courses and the involvement in Vanderbilt's Senior Design Projects.