Home » Historic Black Nashville » Students from University Course 'Historic Black Nashville' Visit Tennessee State Archives
Students from University Course 'Historic Black Nashville' Visit Tennessee State Archives
Posted by anderc8 on Friday, June 15, 2018 in Historic Black Nashville, News.
The University Course 'Historic Black Nashville' was offered for the second time during the spring 2018 semester. To chronicle some of the highlights of the course, several students authored blogs reflecting on site visits the class took during the semester. Over the next few weeks, these blogs will be published on the VU BreakThru webpage.
This featured blog focuses on the class visit to the Tennessee State Archives.
Written by Destiny Hanks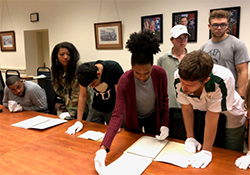 I felt like a real historian being able to touch archives with gloves. The librarian was able to pull significant documents related to Tennessee's history for our class, and we used the skills that we learned in the classroom to read 19th century handwriting. We struggled to figure out what the author was saying at first. However, once we got the hang of the shape of the author's letters, we deciphered the meaning of various texts. We were exposed to documents that described things like a murder near a black church, a lynching by the river and a record of slaves who word on Nashville's local railroads.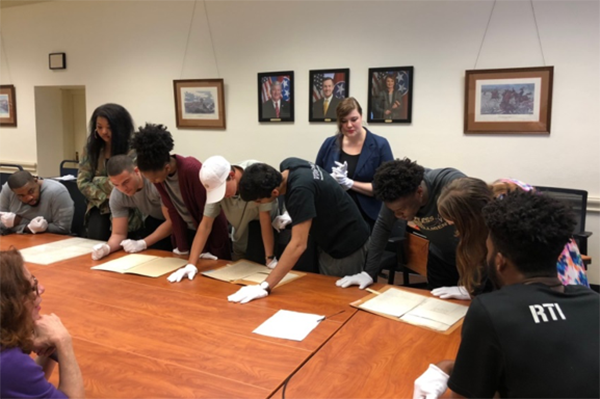 My favorite thing that we found was related to the Ida B. Wells case as we were able to examine the court testimonies. It was interesting to read about Ida B. Wells' encounter on a street car line as well as other testimonies of the situation. The people that were interviewed were listed by name and some by occupation. There were several preachers who were on the street car line. There was even a testimony from the conductor. The document was easy to read, but we had to use a mini spatula along with gloves to flip the pages of the book. Along with one of my classmates, we breezed through a majority of the court document. It was a fascinating experience, and I would love to return one day to learn more about other important documents that are held within the walls of the Tennessee State Archive.