Home » Historic Black Nashville » Students from University Course 'Historic Black Nashville' Visit Vanderbilt Center for Digital Humanities
Students from University Course 'Historic Black Nashville' Visit Vanderbilt Center for Digital Humanities
Posted by anderc8 on Monday, June 11, 2018 in Historic Black Nashville, News.
The University Course 'Historic Black Nashville' was offered for the second time during the spring 2018 semester. To chronicle some of the highlights of the course, several students authored blogs reflecting on site visits the class took during the semester. Over the next few weeks, these blogs will be published on the VU BreakThru webpage.
The two blogs below focus on the class visit to Vanderbilt's Center for Digital Humanities.
Written by Saatvik Mohan
Having had several classes in Buttrick, I was surprised to learn that for two years I'd been walking right past the Center for Digital Humanities without a second glance. When I learned that this department existed, I was confused. It seemed as though "digital" and "humanities" were oxymoronic by nature, but I soon learned that I was mistaken. Madeleine Casad, the associate director of the Center, spoke to us about the importance of the presentation of history. While academics may prefer an unabridged, verbose research paper, the general public would generally prefer a more accessible approach (like an interactive presentation).
We looked at a website that used an interactive map to show the geographical spread where opioid overdoses have occurred, and each death had a description written by a friend or family member. I was quite surprised by this unorthodox display of records and was touched on an emotional level as well. I am sure this reaction was the one that the creators of the site expected. This course helped me realize how important it is to tailor a presentation to a particular group of people, a lesson that helped me in the creation of my own project.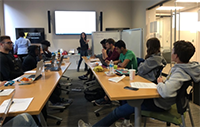 Written by Karlin Compton
In October 2016, with the support of a grant from the Andrew W. Mellon Foundation, the Center for Digital Humanities was established. The Center helps students find learning experiences, receive support on projects and discover an intellectual community for creative and scholarly works. With help from Center associate director Madeleine Casad, we navigated and saw examples of a number of digital humanities projects produced by Vanderbilt as well as other schools.
This info session went particularly well for me, because as part of our class projects, we were asked to create public history projects on the same topic as our paper.  I am a big fan of maps, so I was drawn to the idea of an Esri Storymap. This is an interactive map that can display whatever facts one wishes upon clicking certain points.  After speaking with Dr. Casad, I decided on the Lost to Opioids story map that celebrates the lives of those lost to the opioid epidemic (https://losttoopioids.nsc.org/index.html).
---