Meet a USAC Member: Jeremy Bourgoin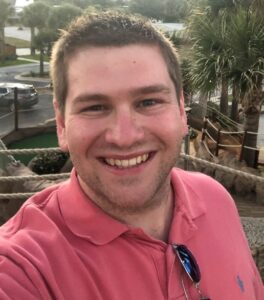 What department do you work in and what is your job title?
Dean of Students—Assistant Director, Office of Student Accountability, Community Standards, and Academic Integrity
How long have you been a Vanderbilt employee?
I'm in my 5th year!
What has been your career journey to lead you to where you are today?
I was a hyper-involved student leader at my undergraduate institution, the University of Tennessee at Chattanooga, and worked in just about every campus office. I studied education and business administration and found higher education to be a perfect combination of the two so I came to Vanderbilt for my M.Ed. in Higher Education Administration where I was the Graduate Assistant to the Dean of the Commons and the Advisor to VUcept. I fell in love with developing student leaders and supporting students so I never looked back! I left Vanderbilt for four years working in three progressive positions at the University of Miami in sunny South Florida before returning to my home and alma mater for my current role! I am also a part-time doctoral student trying to advance my education and self professionally to continue my journey in higher education.
What do you enjoy most about Vanderbilt?
I fell in love with Vanderbilt because of my work with the students. They are exceptional and talented individuals who thrive under my style of advising. We truly bring out the best in each other! What keeps me here are the students, my great colleagues around campus, and opportunities to stretch my professional skills in my office and in collaborations across campus!
What is the greatest bit of advice a parent or mentor has given you?
A mentor once gave me the advice to "Protect Your Heart." What she meant was you can love your job and your students so deeply, but you also have to guard your heart because the work we do is hard and burnout is real. If you don't protect your own heart, you don't have the ability to care for yourself or others.
What is one important skill every person should have?
The ability to laugh at yourself and with others. When we take each other seriously or get too into our work that we lose levity, we lose ourselves. You have to be able to have fun, laugh, and enjoy the moments you can, even in the most serious roles or the most challenging of times.
What do you enjoy doing to relieve stress?
Enjoy isn't the right word, but I workout and run pretty regular (yay quarantine habits). I do find it to be a good stress reliever, but I am always very clear I do not enjoy it one bit! Huffing and puffing my way to stress relief and better health one day at a time!
What did you want to be when you grew up?
I was always torn between being a teacher and being a business person. I loved school and loved teaching others; I also loved operations, logistics, and management. I truly do believe I found a profession that combines the best of these things so I am doing what I always wanted, even if it doesn't look exactly the way I would have predicted as a child.
Name two things you consider yourself to be good at?
I have always been told I'm a good supervisor/leader and do well with my teams which I take a lot of pride in! I am also a fierce event planner and love planning logistics for concerts/sporting events/parties/etc…
What is your favorite outdoor activity?
Laying by the pool or ocean. Not swimming or being in the water necessarily…just laying by it is my favorite pastime!
If you had an extra hour each day, how would you spend it?
I honestly would love an extra hour just to relax and watch a tv show. I keep my days very structured and most of the time do not really allocate myself that one hour to just sit and chill to do something mindless. So I would love an hour to do that!