Meet a USAC Member: Katelen Robertson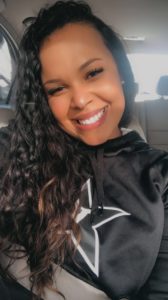 What department do you work in and what is your job title?
Athletics: Student-Athlete Development / Assistant Director, Student-Athlete Development
How long have you been a Vanderbilt employee?
3 years
What has been your career journey to lead you to where you are today?
I worked at Monroe Carell Jr. Children's Hospital while earning my Masters in Sport Administration from Belmont University. Interned with Vanderbilt Athletics Student-Athlete Development (2017) for 6 months before being offered a full-time Coordinator role. Was promoted to Assistant Director a year ago (2019).
What did you want to be when you grew up?
I wanted to be many things that were not related in any possible way: Neonatal Nurse, Broadway Actress, Marine Biologist and an Athletic Trainer. Too bad I couldn't do it all!
If you could visit any country with no budget, where would you visit?
I have a family friend that moved to Haiti right after high school graduation to work at an orphanage called Danita's Children. She has been there for 15 years serving children and families. It has always been a dream of mine to visit, serve, bring hope and share the love of Jesus at that orphanage. With no specific budget, I would plan to purchase needed supplies to equip the orphanage.
What is your favorite type of music?
R&B is most definitely my favorite! My family and friends know exactly who created the playlist when R&B is going!
What has been your favorite vacation you have ever been on?
Senior Week at Disney. Disney closes the park down for graduating high school seniors. We enjoyed all the theme parks, Keri Hilson performed, and we got to meet seniors from across the country! It was so cool to be in community with people that were in the same season of life and celebrating that season together!