Meet a Vanderbilt USAC Member: Craig Fields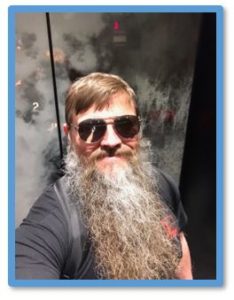 What department do you work in and what is your job title?
Web Developer – Digital Strategies [Division of Communications]
How long have you been a Vanderbilt employee?
VTS – 1988-89 (before Navy)
VTS – 1993 (after Navy)
VTS – Oct 2001-Sept 2003
Fulltime – Sept 2003-Present
*A Lifelong Vandy Fan: My mom has worked at VU since 1980. AND I lived on Westlawn Dr. not far from campus and my dad was a metro policeman. He would put me on his shoulders and carry me to the football games from our house when I was 2 and 3 years old. It's about 1 1/2 blocks.
What do you enjoy most about Vanderbilt?
The people! (faculty, staff, students) I absolutely love coming to work and working side by side with my co-workers. "Work From Home" days! My supervisor is the bestest. Who doesn't love work from home days? Benefits! Both of my kids have been able to take advantage of the tuition benefit.
What did you want to be when you grew up?
As a very young kid I wanted to in the Military. I played with my little plastic green army men in my Pawpaw's sand pile all the time. I come from a long line of men that have served in our Military.
If you could visit any country with no budget, where would you visit?
That's easy…..Israel! That's been number 1 on my bucket list for a long time. I'm actually going with my church this coming March 2020!!!! I cannot wait! To walk and read my bible in places where these events took place is #1 on my bucket list!
What is your favorite type of music?
Well…so my tastes change. Right now it's Christian worship music. (97.1 K-Love), but I like 80's hairbands, old school country by the greats like Don Williams, George Jones, Conway Twitty, Johnny Cash….I could go on and on.
What has been your favorite vacation you have ever been on?
That would have to be a trip to Disney in Orlando with my kids. We went to all 4 Disney parks, both Universal Studio parks, Sea World and two dinner shows. I needed a vacation from my vacation when I got back.
What are you most proud of in your life thus far?
Being a Christian hands down! Here recently I've come to know Jesus and started my walk and relationship with Him. Since accepting Him as my Lord and Savior, I've seen great works almost every week. Nothing can or will ever compare to the feeling when I gave my life over to Christ!