Meet a Vanderbilt USAC Member: Madison Gibson Iberg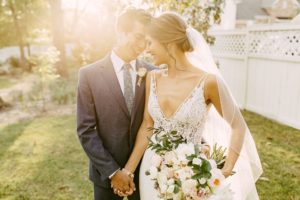 What department do you work in and what are your duties?
I work in the Owen Graduate School of Management as their HR Manager.  In my role, I provide a wide range of human resources support and consulting services for Owen faculty and staff covering recruitment, benefits and leave administration, training and educations, onboarding, employee appreciation, and anything in between.  I also am the HCM specialist for Owen serving faculty, staff, and our student employment population.
How long have you been a Vanderbilt employee?
I have been a part of the Owen GSM family since August of 2019.  After graduating from college a semester early in December of 2015, I started working at Vanderbilt in March of 2016 in our Central Human Resources group.  There, I started as an HR Representative working on the benefits team.  From there, I moved into a Benefits Representative.  I was fortunate to have great leaders within Human Resources, and I lucky to still have them as mentors today.
What do you enjoy most about your job?
As HR Manager, I have a really unique opportunity to let our community know there is someone here that wants to celebrate the highs and lows, the good and the bad.  It's exciting for me to see our folks grow and succeed in the work they are doing.
What is your favorite TV show or movie?
I don't watch TV a ton since I usually prefer to be outside soaking in the sun or getting a long walk in.  I always enjoy re-watching episodes of The Office and Parks and Rec for something light-hearted.  I also love watching documentaries on an array of different topics.  I'm always curious to learn more and know how an industry works.
What is the best piece of advice you have ever been given?
My aunt is a great source of inspiration to me.  She's above and beyond a rock star in her field and has done great things for the state of Tennessee.  She often shares little nuggets of advice with me while we sit on her back porch and watch the sunset.  Her farm in Lebanon, TN is my home away from home- out of the city life and into a simpler time.  She sees what I get hung up on or frustrated with.  She reminds me that if she could go back 20 years in her career, she would tell herself to not sweat the little things and to not believe the stories you tell yourself inside your head.  Easier said than done, right!  As someone who often internalizes and has a play by play in their head about a conversation before it happens, weighing out what I believe the pros and cons are, I'm challenging myself to just go for it.  Continue to be thoughtful, but take action…have the conversation!  My aunt has incredible perspective, and I'm eager to pick her brain more to grow in my personal and professional life.
What hobbies do you enjoy?
As I mentioned earlier, I love getting outside.  On Saturdays, you can usually find me at a local coffee shop then head for a walk in Bicentennial and checking out what's at the Farmer's Market that day.  I teach barre classes at NuPower Yoga and Barre in 8 South twice a week which is really rewarding.  I also practice hot yoga there to focus my mind throughout the week and get a nice work out in, too!  Recently married in April of this year, my husband Elliott and I shared a love for the outdoors.  This past spring and summer, we built out our own garden full of tomatoes, squash, jalapeños, and plenty of herbs right in our backyard just a couple miles from downtown Nashville.  We're big foodies and love experimenting in the kitchen with the food we grew.  Right now, we're enjoying entertaining friends for football season- smoking wings and chicken thighs on the Big Green Egg or making a restaurant quality charcuterie board.  Despite the lack luster season from our alma mater in East Tennessee, we still have hope.  Like a true Vol, there's always next year!