Meet a Vanderbilt USAC Member: Megan Sprague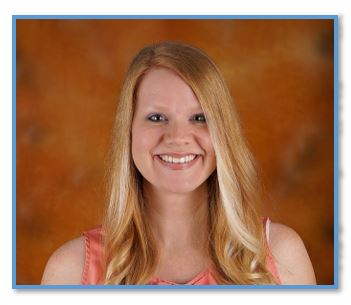 What department do you work in and what is your job title?  Additionally, what are your job functions?
I work in the School of Nursing as a Program Coordinator II, and support the Senior Associate Dean for Clinical and Community Partnerships. I am responsible for maintaining Practice faculty appointments, assist in the staffing of our clinics with NPs and midwives, work as a liaison in the credentialing process of new hires, assist my dean with her DNP teaching responsibilities, and handle basic grant work for our practice leaders, along with additional administrative duties performed daily. While I am a VU employee, I get to work side-by-side with VUMC every day.
How long have you been a Vanderbilt employee?
I have been with Vanderbilt for 9 years. I started through VTS and was hired full time into my first assignment with them a few months later.
What do you enjoy most about your job?
The projects I get to tackle. I am a person who loves puzzles, and coordinating projects is like mastering a very complicated puzzle. I love the organizational aspect of the role, and the relationships I get to build along the way.
What has been your career journey that has lead you where you are today?
The thing I love most about Vanderbilt is that they encourage you to find your perfect fit within the organization when it comes to your career. That is why I have been dedicated to Vanderbilt for almost 10 years. I came to VU immediately after the flood in 2010 to find a temporary position until I knew if my job at Opryland still existed. I loved the culture here so much during my VTS assignment that I chose to stay even when my old position reopened. While at Vanderbilt, I have worked in Human Resources, VUPS, Hospital Administration, and now VUSN. Each department encouraged me to elevate to a next level position and assisted with my transition. My administrators have helped me grow my love for Business Management and have guided me toward this career path, as well as supported my desire to finish my degree.
What are you most proud of in your life thus far?
Being a mother! It is the hardest and most rewarding job I have ever had the privilege to have, and I do not take that for granted. I have learned so much from our daughter in these past 2 years, and it trickles into all aspects of my life.
What is your favorite TV show, movie, podcast, etc.?
I am a sucker for a crime series. Perhaps it was due to my father being in law enforcement, but I love Law & Order SVU, any true crime docs that come out on Netflix, and cold case podcasts. As for movies, I am still a fan of most movies from the 80's and 90's. Labyrinth, The Princess Bride, The NeverEnding Story- I will watch on repeat and it always takes me back to my youth. That is probably why I love Stranger Things so much.
What hobbies do you enjoy? 
I love music and dancing. I had always dreamed of becoming a professional choreographer when I was younger. Although that dream did not become a reality, I get to live vicariously through my best friend who owns her own dance studio. I now get to watch my daughter take classes there, and I love to assist my best friend when she needs opinions on new songs for dances, cleaning up choreography, and practicing technique with my daughter.