Meet a Vanderbilt USAC Member: Samantha Barclay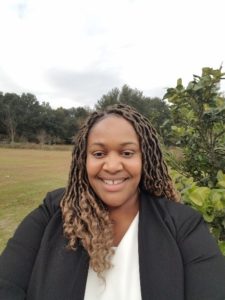 What department do you work in and what is your job title?  Additionally, what are your job functions?
The Acorn School at Vanderbilt University at 19th Avenue, which is a part of the child and family center department. My job title is Early Childhood Preschool Lead Teacher. My job is to care, nurture and educate young children ages 3-4 in basic life skills and academics.
How long have you been a Vanderbilt employee?
I have worked for Vanderbilt for 11 years.
What do you enjoy most about your job?
I truly enjoy the interaction that I have with the children and their families and the ability to watch them learn and grow from the experiences that my co-teacher and I offer them thought the school day.
What do you feel has been your biggest professional achievement?
One of the biggest professional experience so far is being a part of the Pre-K Professional Learning Teacher Cadre at the Ayers Institute for Teacher Learning & Innovation at Lipscomb University. There I am a part of a team of professional Early Childhood Teachers in the Nashville area that will be collaborating together to create online professional development resources specifically for Pre-K teachers.
What is the best vacation you have ever experienced?
Spending time with my family and friends on the beautiful island of Grenada. The birth country of my father.
Which famous person / historical figure would you like to meet?
Shirley Chisholm
What was your first job?
The house of the mouse, Walt Disney World (Orlando, FL)
What words of self-wisdom would you pass on to your childhood self?
The words of self-wisdom I would pass on to my childhood self would be seek opportunities and take advantage of them when the door is open to you. Never be scared to attempt something, all they can say is "NO" and then you can try something else that is better for you.  Lastly, never let anyone tell you that you won't make it. I am living proof that I will!