Spread the Love with USAC and Second Harvest Food Bank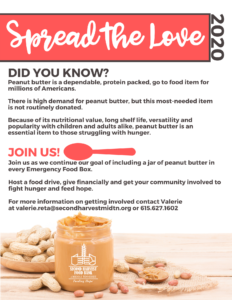 Beginning February 3, the University Staff and Advisory Council is accepting donations for Second Harvest Food Bank. The mission of Second Harvest is to feed hungry people and work to solve hunger issues in our community. Peanut butter is the most desired donation because of its nutritional value, shelf life, and popularity, but we accept all non-perishable items. Throughout the month of February, help us Spread the Love by donating items to Middle Tennesseans in need.
If you would like to set up your own donation box, please print out the event flyer and attach it to a box to be picked up at the end of the month. For assistance with setting up your own donation box, please contact Amanda King or Felisha Baquera.
amanda.d.king@Vanderbilt.Edu
f.c.baquera@vanderbilt.edu
Current collection box locations include:
Alumni Hall
Baker Building lobby
Buttrick Hall 404
Central Library – Info Desk
Featheringill Hall
Kirkland Hall – 1st floor by mail room elevators
Loews Office Tower – Suite 700 & Suite 750
Loews Office Tower – 10th floor break room
Loews Office Tower – by the elevators (floors 7, 9, 10, 12)
Olin Hall
Peabody Admin 216
Stevenson Center 6
Student Life Center