VDS Welcomes New Assistant Dean

We are delighted to share that The Reverend Laura Mariko Cheifetz (pronouns: she/her) is joining the Vanderbilt Divinity Staff as Assistant Dean for Admissions, Vocation, and Stewardship. Laura's first day will be August 15, 2019.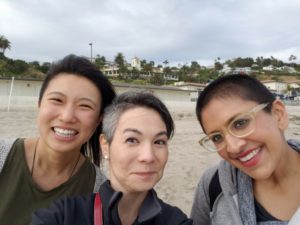 Laura is currently the Campaign Manager for "Flint: The Poisoning of an American City," a feature-length documentary, and adjunct staff for Montreat Conference Center's 2019 Women's Connection conference.
She served as the Deputy Director of Systems & Sustainability of the National Asian Pacific American Women's Forum, a national organization whose work in immigrant rights, economic justice, and reproductive rights & health is done through a reproductive justice framework, and was responsible for development, grants administration, operations, and human resources, including spinning off from a fiscal sponsor and becoming an independent non-profit organization. Before that, Laura was Vice President of Church and Public Relations at the Presbyterian Publishing Corporation (PPC) in Louisville, KY. She helped provide strategic leadership in publishing, edited a quarterly devotional with a circulation of over 80,000, engaged with regional and national church bodies on behalf of PPC, and served as a spokesperson for the organization.
Prior to PPC, Laura served as Director of Strategic Partnerships at the Forum for Theological Exploration (formerly the Fund for Theological Education) in Atlanta, GA, working with new pastors and partner institutions and organizations committed to developing the next generation of Christian leadership. Before that, she was director of the Common Ground Project (formerly the Asian American Discipleship for Vocational Exploration, Nurture, and Transformation Project, or AADVENT Project), expanding a program for Asian Pacific American young adult Christians and pastors to include Latinx and black/African American young adults and pastors in engaging vocational discernment and mentoring for the next generation of diverse Christian leadership. She also served at a bilingual urban church (Mission Presbyterian Church) in San Francisco, and as an intern at the Presbyterian United Nations Office, coordinated the Presbyterian Church (USA)'s participation in the United Nations World Conference Against Racism, Racial Intolerance, Xenophobia, and Related Intolerance.
She is a contributing editor to Inheritance, a magazine amplifying the stories of Asian American and Pacific Islander Christian faith. She is the co-author and editor of "Church on Purpose: Reinventing Discipleship, Community, & Justice" (Judson Press) and contributor to "Race in a Post Obama America: The Church Responds" (Westminster John Knox Press), "Leading Wisdom: Asian and Asian North American Women Leaders" (WJK), "Here I Am: Faith Stories of Korean American Clergywomen" (Judson), and "Streams Run Uphill: Conversations with Young Clergywomen of Color" (Judson). She is co-author of the "Forming Asian Leaders for North American Churches" entry in the "Religious Leadership" reference handbook (SAGE Publishing). An occasional contributor to various blogs, her piece "Race Gives Me Poetry" for "Unbound: An Interactive Journal of Christian Social Justice" won the Associated Church Press 2016 Award of Excellence – Reporting and Writing: Personal Experience/1st Person Account (long format).
Laura is multiracial Asian American of Japanese and white Jewish descent. She was the fourth generation of her family to be born in California, and grew up in eastern Oregon and western Washington. Laura has a B.A. in Sociology with a minor in Spanish from Western Washington University, an M.Div. from McCormick Theological Seminary, and an MBA from North Park University. She is an ordained minister in the Presbyterian Church (U.S.A.), and has served on various boards, national and international ecumenical bodies, and has been president of two homeowners associations. She is currently the co-moderator of the Special Committee on Per Capita-Based Funding & National Church Financial Sustainability for the Presbyterian Church (USA). As you might imagine, she is well-versed in people and politics.
Laura and her partner, Jessica Vazquez Torres, the National Program Manager for Crossroads Antiracism Organizing & Training, currently live in Decatur, GA with two rescued Shih Tzus. They enjoy all their nieces and nephews, and hope to be such fabulous aunties that the kids smuggle good booze to them in their retirement home. In their free time, Jessica bakes and Laura delivers the baked goods to friends and neighbors.