VUIT's Network Services connects more student devices than ever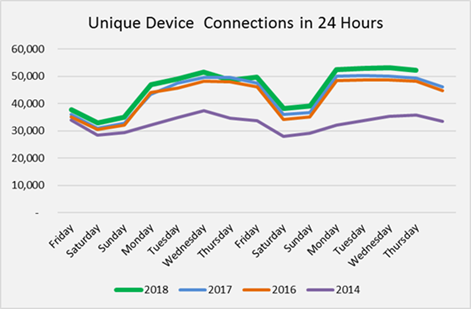 Even though our student populations stays rather static each year, the number of devices brought to the university increases as does the resources these devices use, such as bandwidth. We typically see an increase of about 3-5% in the number of "things" connecting to the network. This varies from smart phones, laptops, tablets, and game consoles all the way to such things as WiFi connected light bulbs. Last year we peaked at 51,000 different devices connecting to the network per day; 35% attributed to student usage. This year it was even higher.
During student return, our network usage increases quickly and maintains at that level until fall break. Over the first week of school, we saw the number of wireless users go from 7,800 users to over 15,000 within a 7 day period. Internet usage goes from a daily peak of 6 Gigabits/sec to over 9 Gigabits/sec. While all of this activity is happening, the VUIT Network Services' team continues to address any issues with wireless coverage, cable TV, and port activation.