Meet Fan Fei Chong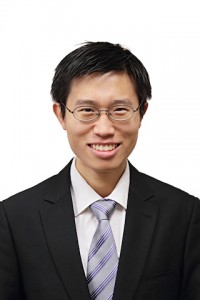 My dissertation research is in the area of Non-commutative Geometry. This is a branch of Mathematics which seeks to build relations ('duality') between several seemingly unrelated areas of Mathematics, so that tools in one area may be lent to yield elegant solutions to hard problems in another area. My work was very theoretical which was fine when considering a career in academia.  While working on my dissertation, I started to feel that academia would not only be difficult to pursue, but not the best fit for me.  When I met with Ruth about preparing my job materials for academic careers, she suggested that I consider jobs outside of academia which was an idea that I hadn't really entertained before.  Tenured jobs are few and far between and the life of post-doctoral person is hard on family life with the near constant moving.  I started to explore alternatives and became interested in actuarial work.
Even though actuary work is based in math, it is quite different from academic work.  I began by taking the first tests.  Before taking more exams, it is required that you have some experience.  Therefore, I started to look for a job.  Ruth helped me start a LinkedIn profile and I began to talk with people in the field by connecting to actuary groups.  One resource was Power Ties: The International Student's Guide to Finding a Job in the United States by Dan Beaudry which helped explain networking in American culture and provided some good how-to's.  I started by connecting locally in Nashville, but none of the companies were willing to sponsor an international employee.  I was fortunate to find a couple of student-friendly and affordable conferences to go to and start to develop my network outside of the geographically-bound Nashville.
During these conferences, I met a recruiter, a former cohort member, and many others.  Networking can be hard, but once you begin to connect with people, you realize that you are not struggling alone.  Most importantly, I met Leigh.  Leigh was excited to hear that I had a PhD and recognized the depth of analysis that PhD program provided as beneficial to this field.  He ultimately connected me with my current job–which could not have come at soon enough.  My son was born during my last semester at Vanderbilt and two weeks before one of the conferences.
Networking is important for everybody within and outside of academia, but is unfortunately most associated with the business world.  Don't be afraid to reach out to people you do not know and ask for advice.  Show genuine interest in who they are and their story.  You might be surprised by what you find.
With that being said, I have a couple of suggestions for those who are entering the job market soon:
Integrity is key.  Don't say certain things simply because you want to get something from the other person.  Even though you may be dying for a job, do not do something you will regret later.  You never know when you will run into the other person again.
Think LONG-TERM.  Ask this question: do you see yourself in the job and enjoying it for next five years?  If the answer is not a positive, you may wish to find out what your long-term career goal is and what kind of experience will get you there.
Remember:  It's never too late to explore something new.  But hurry up and take action.
Fan Fei's Fun Facts!
Current city: Greensboro, NC
Current position: Statistical Analyst at United Guaranty Corporation
Degree program: Mathematics
Favorite professor: Gennadi Kasparov, advisor
Favorite Nashville restaurant: My wife's home cooking!
Favorite place to work: My graduate student office in the math department
If you would like to learn more about Fan Fei and his work at United Guaranty Corporation, send him an email.