Associate Provost for Education Development and Technologies
Professor, Dept. of Communication Studies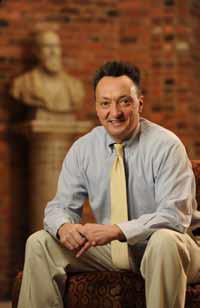 Research/Pegagogical Interests: Rhetorical Theory and Criticism, Public Discourse, Gender Studies, Media and Cultural Criticism, Media Theory
Background/Present:
I received my B.S. in Media/Advertising from Appalachian State University (Boone, NC) in 1985 and worked the following year at a full service marketing firm in Chapel Hill, NC. From 1986-1988, I worked on my Master's in Speech Communication at the University of Georgia. From 1988-1992, I was at the University of Iowa, where I received my Ph.D. in Communication Studies. After a three year teaching assignment at Drake University in the Dept. of Rhetoric and Communication Studies, I began my current position at Vanderbilt.  In Spring 2005, I was promoted to Professor of Communication Studies.
From 2007-July 2011, I served as Sr. Associate Dean for Undergraduate Academic Affairs in the College of Arts and Science. From August 2011-May 2014, I served as Sr. Associate Dean of Faculty in the College of Arts and Science.  From June 2014-July 1, 2015, I served as Interim Dean of the College of Arts and Science.  From August 1, 2015-June 2018, I served as Associate Provost for Digital Learning. My current role as the Associate Provost for Education Development and Technologies and acting Director for the Vanderbilt Institute for Digital Learning, began July 1, 2018.
Like the entire faculty of our Department, I work hard to maintain a relationship between my research and teaching interests. For instance, I have published work that focuses on mass media production and consumption and use this background in my Rhetoric of Mass Media course. My current research on public discussions of gender ambiguity led to the creation of a course entitled "The Rhetoric of Gender Trouble." As a result, I try to encourage students to work, write, and speak on areas that are vital to their lives–past and potential.
In 1996, I published my first book, The Cultural Prison (University of Alabama Press), which was published in paperback in 2006..
In 2002, Temple University Press published Shifting Borders: Rhetoric, Immigration, and California's "Proposition 187, a book I co-authored with Kent Ono (Director of Asian American Studies, University of Illinois).
The University of Massachusetts Press published my, Disciplining Gender: Rhetorics of Sex Identity in Contemporary U.S. Culture, in 2004.
I am currently working on a series of case studies dealing with gender, sexuality, citizenship and mediation.
On a separate note, I served as editor of Communication and Critical/Cultural Studies for Volumes 4-6, 2007-2009.
For an overview of my research and service, see my vita.
Courses taught (note: the courses below are no longer web links, as I am moving all courses to Blackboard)
Rhetoric of Mass Media (CMST241)
Rhetoric of Popular Music (CMST294)
Rhetoric of Social Movements (CMST 224)
Contemporary Rhetorical Theory (CMST257)
Rhetoric of Gender Trouble (CMST294)
Communication, Culture, Consciousness (CMST242)
Public Speaking (CMST100)
Rhetoric and Civic Life (CMST 210)
Methods of Rhetorical Analysis (CMST 254)
Mass Mediated Politics: Issues and Images (HUM161)
Lessons from "Lost" (CMST115W)
Mail (and Marlon Brando postcards) can be sent to:
John Sloop
411C Kirkland Hall
2201 West End Ave
Vanderbilt, TN 37240
Office: 615-875-9038
Email me at john.m.sloop@vanderbilt.edu