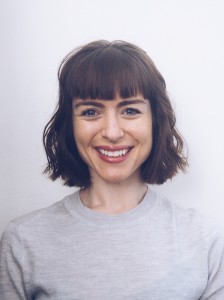 Kathryn is a fifth year PhD student working on a cotutelle between Vanderbilt University and Université Paris 8 (the department of French and Italian and the department of Women and Gender Studies, respectively). She resides in Paris, France where she has been carrying out research and teaching at the Sorbonne Paris III and Université Paris-Nanterre for the past 3 years.
Kathryn received a Master's in French Literature from the University of Kentucky in 2012. After finishing her degree, she was chosen as a French Teaching Fellow for the Alliance Française, Deauville Teaching Assistantship in Deauville, France where she taught English to elementary school children and served as ambassador from Lexington, Kentucky. Following this, Kathryn taught English to adults in Paris, France for nine months before beginning Vanderbilt University's French and Italian Program in the fall of 2014.
Thanks in no small part to a 2015 Pichois Travel Grant, Kathryn's current research concentrates on intersections of gender, language, and power in the literature and cinema of the 20th and 21st centuries— specifically with regards to questions of "madness." The Pichois Grant was the capstone of a research project investigating Camille Claudel's experience as 'madwoman' and artist, and acted as a catalyst for the development of Kathryn's thesis: "Les femmes, la folie, et le rapport à soi-même: l'écriture de l'aliénation mentale dans le 21ème siècle."
Kathryn views her thesis as the exploration of a cultural phenomenon. Her research analyzes the ways in which our philosophical questioning of "madness,"— a fundamentally inescapable part of our humanity— informs and is informed by traditional gender roles, with language acting as the intermediary. In her thesis, Kathryn will explore how divergences in the linguistic patterns portraying the "madwoman" and the "madman"— which function to inform our socio-cultural perception of madness— demonstrate how madness both evolves and is perceived differently depending on circumstance and context. She believes that by illuminating the essential role of language in the construction of mental illness, we move towards a better understanding of the relationship between our [gendered] perception of madness and how this madness evolves, as being at least propagated, if not created, by the media.
Some of Kathryn's other research interests include: autofiction, counter cultural movements, identity construction, the female voice, performative gender roles, and the politics of gender—specifically within the works of authors such as Nina Bouraoui, Maïssa Bey, Hélène Cixous and Annie Ernaux. She looks forward to further exploring these areas and embracing a little madness along the way.
Supervisor: Dr. Nathalie Debrauwere-Miller
CV – Kathryn E. Devine