featured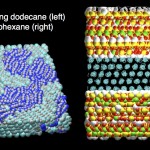 Simulation and free energy calculations of nanoconfined fluids Nanoconfined fluids play a crucial role in many natural and man-made products and processes, including adsorption, lubrication, and more recently, ionic-liquid supercapacitors. Nanoconfinement can induce significant changes to the structural and dynamical behavior of systems, e.g., inducing the formation of solid phases when equivalent bulk systems would…
Posted by iacovecr on May 8, 2014 in , featured
---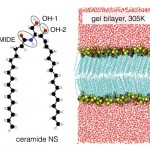 Lipid Membrane Simulation The barrier function of the skin is localized to the stratum corneum (SC) layer, composed of corneocytes (dead skin cells) surrounded by a lipid matrix rich in ceramides, cholesterol, and free fatty acids. The McCabe group uses molecular simulation to investigate the ceramide-based bilayers, to investigate the structure and morphology of bilayers to…
Posted by iacovecr on May 8, 2014 in , featured
---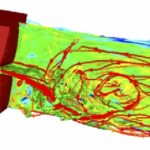 Glottal laryngeal aerodynamics and vocal fold modeling We aim to develop an accurate and versatile computational modeling approach to simulate the fluid-tissue interaction process during phonation and to apply the simulation for research, diagnostics, and surgery planning of a variety of vocal fold disorders.
Posted by iacovecr on May 8, 2014 in , featured
---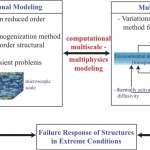 The goal of the research is to predict damage accumulation and failure in heterogeneous structures subjected to extreme loading and environments based on computational modeling and simulation.
Posted by iacovecr on May 7, 2014 in , featured
---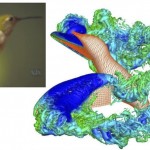 Biological and biomimetic swimming and flying We develop computational fluid dynamics (CFD) models, as well as computational fluid-structure interaction models, to understand the efficient propulsion and rapid maneuver techniques employed by animals in nature and to provide fluid-dynamics guidelines for the design of biomimetic miniaturized vehicles.
Posted by iacovecr on May 7, 2014 in , featured
---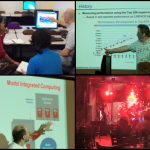 The 2014 Molecular Modeling and Simulation Cybercamp registration is now available. Taught by Peter Cummings and Christopher Iacovella, the cybercamp is a 1-day intensive course on molecular modeling methods (molecular dynamics, Monte Carlo, quantum chemistry, visualization). A mixture of lectures, interactive demonstrations, and hands-on labs provide a rapid introduction to simulation. https://huggins.vuse.vanderbilt.edu/cybercamp/
Posted by iacovecr on May 6, 2014 in Events, News, Events, featured
---