Meet a Vanderbilt USAC Member: Josh Luffman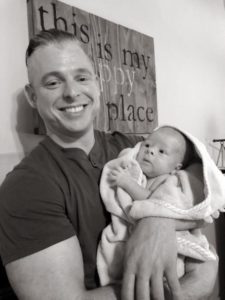 What department do you work in and what is your job title? 
I am a Program Coordinator in the office of Facilities, Infrastructure and Risk Management for The School of Medicine Basic Sciences. I am responsible for facility renewal projects, space management, and capital asset tracking within the School of Medicine as well as coordinating unique projects that fall under our office.
How long have you been a Vanderbilt employee?
I have been a Vanderbilt employee for 12 years. 5 years in Animal Care, 3 years in a Research Lab, 4 years as a Core Manager, and 1 month in my current role.
What do you enjoy most about Vanderbilt?
The abundant opportunities to develop new skills and grow professionally. Over the years, I have been fortunate to work with some great leaders who have helped me realize and maximize my potential through personal and professional development.
What did you want to be when you grew up?
I wanted to be a cowboy. When I was a kid my life revolved around horses. I started riding before I can even remember and started competitive jumping around age 5. After college, I managed a ranch with 40+ horses and took tourist on trail rides all day. I also did wild west shows and extreme riding and shooting competitions. After numerous injuries, I quickly realized this was not a sustainable career.
If you could visit any country with no budget, where would you visit?
Germany. My great uncle fought in the Battle of the Bulge and spent time in a POW camp during WW2. He documented every moment and I would love to retrace his steps.
What has been your favorite vacation you have ever been on?
Last year I spent 5 days backpacking through the Grand Canyon. It's hard to put into words. It was a truly surreal experience.