On November 1, in many Christian traditions, we observe All Saints' Day and All Souls' Day, where we offer a "Requiem for the Dead" — a moving, often solemn remembrance of our faithful departed in song and prayer. Increasingly though, in many Christian communities, especially those with congregants from Latin American backgrounds, we have integrated the cultural and religious observance of El Día De los Muertos, the Day of the Dead.
This observance, while similar in meaning, looks and feels different than a traditional All Saints' Day observance. El Día de Los Muertos is a festive and colorful observance that serves more as a celebration, seeking to joyfully honor our loved ones in the way we remembered them while they were alive. Throughout Mexico, many parts of Latin America, and in many communities in the United States, people celebrate el Día De los Muertos on November 1st and 2nd, by visiting the grave-sites of loved ones. In the Mexican tradition people process to cemeteries and gather for hours; grave-sites are cleaned and covered with candles, marigolds or other flowers. People lovingly prepare the favorite meals and drinks of those who have passed, and they gather in prayer and song, connecting somehow with the spirits of their departed loved ones. Others celebrate by making an altar at home with pictures and many or all of the above items.
Over the years, this tradition has become more popularized with certain staples such as calaveras (edible sugar-candy skulls), and pan de muerto ("bread of the dead," a special sweet bread made for this time of year).  People tell stories, even jokes, about their faithful departed.  And through all of this, families feel the presence of their loved ones that have passed on.
Each Día de los Muertos, I celebrate in particular the lives of my Abuelitos (Grandparents), all who have passed on. I also celebrate my Uncle Luis, who left us too soon a number of years ago. I will never forget his passion for music and poetry, his life of service and commitment to his family, and the joy he brought to the people around him, even strangers.
El Día de los Muertos also has another dimension for many, that of honoring our "collective dead," those people, often nameless and invisible, who have departed for reasons of suffering or systemic injustice– poverty, war, violence, mental illness, natural disasters. When I think about el Día de los Muertos, I think about how we must celebrate and honor the dead by loving the living, and loving the living means working for a more just, humane, and compassionate world, for the sake of our children and future generations. It means heeding the call to "love one another as Christ loves us."
---
The Rev. Francisco García is a first year PhD student and Theology and Practice Fellow at Vanderbilt University, focusing on Theological Studies and Ethics. He is also a Graduate Research Fellow at Vanderbilt Divinity School's Wendland-Cook Program in Religion and Justice. An ordained Episcopal priest and former community and labor organizer, his research project entails developing a theology of organizing rooted in the liberation tradition in order to better equip communities of faith to address the pressing justice issues of our time.
Francisco comes to Vanderbilt from Los Angeles, California, and grew up in a working-class, Roman Catholic, Mexican immigrant household. Francisco attended UCLA where he received a BA in Latin American Studies and Public Policy (2001), and concurrent Masters degrees in Urban Planning and Latin American Studies (2004). He found his way to the Episcopal Church as a young adult, and this is where he discerned his call to ministry. Francisco completed his M.Div. from the joint program at the Claremont School of Theology and the Episcopal Theological School at Claremont, and was ordained in the Episcopal Diocese of Los Angeles in June 2013.
Prior to ordination, Francisco worked in the labor movement for a dozen years in various organizing, negotiating, and leadership capacities with workers in both the public and private sectors. His work over the last ten years has centered around congregation-based ministry and interfaith community organizing/advocacy around immigrant rights, housing rights, and racial and economic justice issues. During this time, he served in leadership roles at two parishes–most recently as the Rector of Holy Faith Episcopal Church, a multiracial, multilingual congregation in Inglewood, California. In 2016, Francisco facilitated an organizing effort making the Episcopal Diocese of Los Angeles a Sanctuary Diocese, and co-founded the resulting Diocesan ministry known as Sacred Resistance.
Posted by Sophia Agtarap on October 30, 2019 in Feature, dia de los muertos
---
The message below was delivered by dean emilie m. townes at the 2019 Convocation held at Vanderbilt Divinity School on August 23.
we gathered in this space that was conceived by students, faculty, staff, alums, and the board of visitors when we started this journey in the fall of 2013
as we talked to all these groups and more, the common themes of community,    justice, worship, light, welcome, accessibility, better classrooms  a front entrance (which meant, of course, we had to decide where the front entrance was)—a place of seeking the sacred in community where faith is lived and practiced and not an esoteric sound bite hosanna
then came the conversations…and more conversations…and finally finding the right architectural firm in gilbert|mclaughlin|casella and the general contractor orion and the rest of the design team
and in June 2017, construction began in earnest
it was a journey with the support of then chancellor zeppos, provost wente, the board of trust, the carpenter foundation, and many folks in this space
as kitty norton worked hard to find funding, the building expansion committee worked hard with the campus planning team in those early months
and we would not be here without professor jimmy byrd who served as point person and most especially heather lee as on-site project liaison, and bob winters as project supervisor and josh gill as the project manager
the list is long of who helped us reach this moment that we must now carry forward, so please forgive me if I have not called your name
the last few days have also been filled with conversations and struggle
many of us gathered here know that there was a serious contract dispute between two of the subcontractors
with the advocacy of workers' dignity (and our students and alums affiliated with it) who created an effective petition and were prepared to protest this opening if need be
and the commitment of the university to its bottom line insistence that those who do business with and on behalf of the university must conduct themselves professionally and treat business associates and employees fairly
the university ultimately stepped in to bring all companies to the table to bring about a just resolution between them; the dispute between the two subcontractors has been resolved and payment has been made
now that we are all back from summer break, the VDS faculty is now thinking through, talking through, writing through and teaching through how we respond as educators and committed folk to our religious values
we have been here before:
in the late 1920's and early 30's it was alva taylor and williard uphaus encouraging their young white male students to oppose segregation in the south—something not particularly welcomed by either the divinity or university administrations of that time
the 1978 davis cup protests against Vanderbilt hosting the South African team because of the apartheid regime it represented and the divinity school's active witness during this time and then-dean sally mcfague being photographed checking on protestors during their picketing
the photograph went out on the national wire services and her support for the protestors was interpreted as a challenge to the university administration
mcfague resigned as dean to protect the school—and faculty and students again had to reckon with what it means to do the right thing
the 1960 lawson affair when james lawson was unfairly expelled for masterminding the student sit-in movements in Nashville that caused much soul searching by the faculty and student body and eventually birthed our statement of commitments in the early 1970s
and because we have been here before, we will embrace our legacy of coming together to do the right thing
but in the midst of all that has happened in these last several days, i have been especially moved by the bravery and orneriness (and coming from a womanist, to say someone is being ornery is a complement) of Armando Arazate, the owner of the small minority-owned business who kept fighting for his rights and for his workers—ICE be damned
so, i am very pleased to be able to welcome you to this space, the space where our commitment as a divinity school to do the right thing stands firm and the words you see in the floor as you came in mean something more than an aesthetic word walkway
we will continue to do the work of theological education with the swag, sway, and slay of justice here
be theologically fabulous
and simply do the work our souls must have
Posted by Sophia Agtarap on September 13, 2019 in News
---

A note from dean townes on staff transitions at Vanderbilt Divinity
We are in a season of transitions as we begin a new academic year with a "new" building that has increased the Divinity School's physical footprint that better reflects who we say we want to be based on our Purpose and Commitments.  Living into one's best self, particularly when that one is a theological school like VDS is both complicated and joy-filled.  Complicated because we are a diverse group of folks—more diverse than I think we realize most days.  It's more than race and gender that adds to the rich beingness of who we are, it's geography, theological viewpoints, age, denominations, sexuality, economics, and so much more.  Each of us who comes to VDS to learn and teach brings worlds within each one of us.  And if we get it right, we celebrate the myriad of ways that shapes each of us rather than try to crunch one another down into a one-size-fits-all person of faith or a person seeking meaning and purpose in life.  It's a challenge to live into a more expansive sense of community that we advocate, but one that we take up with vigor.
As we populate our new building, there are new faces.  Most obvious will the entering class for this new year.  Now, nearly 80 folks strong we are also welcoming students in the new Master of Theological Studies (ThM) program, a 30 credit hour degree program that enables students who already possess a MDiv or equivalent first theological degree to return to school to deepen their study in a particular area related to their ministry or to prepare more fully for applying to doctoral programs. We continue our transition into the new curriculum with last year's MDiv students now joining the MTS students from last year in declaring their concentrations.
And then there are the people transitions.  Professor Melissa Snarr has retired from the Associate Dean for Academic Affairs after seven years of service in that office.  She did an incredible job as academic dean—helping to put in place common-sense protocols and guidelines for the degree programs and she was integral to our successful reaccreditation for ten years by one of our major accrediting bodies, the Association of Theological Schools.  She has begun parental leave and will transition in to research leave as she returns to her scholarly research on the intersection of religion, social change, and political ethics. Transitioning into the office is Professor Ellen Armour.  Ellen is also the director of our Carpenter Program in Religion, Gender, and Sexuality and the E. Rhodes and Leona B. Carpenter Chair in Feminist Theology.  Ellen brings a wealth of experience to the deanship as she has her MA and PhD from Vanderbilt. I am looking forward to working with her as we continue to build out the new curriculum.
Another people transition is in the Admissions, Vocation, and Stewardship Office (AVS). After nine successful years, Assistant Dean for AVS, the Reverend Katherine Smith, has returned to alma mater Duke Divinity School to serve as the Associate Dean for Strategic Initiatives. This is an exciting new position and we wish Katherine well and all the best in her new position. Joining us is the Reverend Laura Mariko Cheifetz. Laura is a PC(USA) minister and a 2005 graduate of McCormick Theological Seminary in Chicago. She is also a graduate of Western Washington University (BA) and North Park University (MBA). Laura has experience in non-profits, theological education, and denominational leadership through her work with the Presbyterian United Nations Office, Mission Presbyterian Church, McCormick Theological Seminary, the Fund for Theological Education (now the Forum for Theological Exploration), the Presbyterian Publishing Corporation, National Asian Pacific American Women's Forum, and Presbyterian Disaster Assistance. We look forward to the new directions she will take AVS in the future.
Posted by Sophia Agtarap on September 12, 2019 in Feature, News
---
View the building dedication and convocation writeup, here, and photos from the events below, by clicking on the image.
Posted by Sophia Agtarap on September 11, 2019 in Dean Townes, Events, Feature
---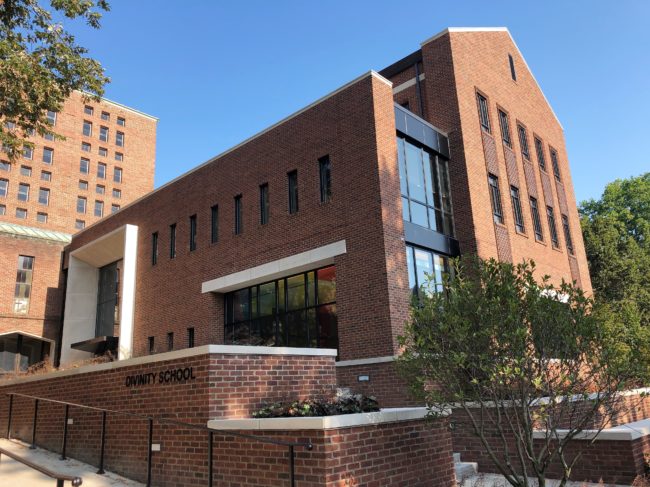 Preface: We wrote this statement in light of a recent labor dispute, now resolved with support from Worker's Dignity and the University and Divinity School. The conflict arose when a subcontractor of the primary construction company for the Divinity School renovation did not pay $66,000 owed to Armando Arzate and his colleagues whom the subcontractor had sub-sub-contracted.
A Faculty Statement with Regard to Wage Theft
As faculty of Vanderbilt Divinity School, we are concerned when relationships are breached, both in ways that are morally wrong and in ways that are systemic and often unrecognized and unaddressed. Concern with distorted relationships characterizes many of the world's religions and certainly the traditions of liberation shared by many of the faculty of Vanderbilt Divinity School. These traditions guide us in the search for more just relationships and require deep conversations among all involved. The school's Commitments express concern about matters of economic injustice in particular as well as racism and ethnocentrism, religious diversity, sexism, and sexual and gender identity.[1]
The Bible consistently confronts economic injustice. Leviticus 19:13 mandates:  "You shall not defraud your neighbor; you shall not steal; and you shall not keep for yourself the wages of a laborer until morning." This concern for wages finds one present manifestation in breach of contract, where employers do not pay those who do the work—individuals or companies—or where they withhold wages. Breaches of contract are more common in today's economy than many of us are aware. The most blatant examples occur when those who work are racial and ethnic minorities and women, and who are vulnerable because of matters of legal status. Each year, the amount of wages withheld in the United States greatly exceeds the amount of the value of property stolen in robberies.[2] This situation is intolerable.
We are also concerned about labor relationships that may be legal, but that do not recognize the full contributions of working people. Today in the United States, white women on average earn 77 cents, African American women 61 cents, Native American women 58 cents, and Latina women 53 cents of every dollar a white man earns for the same work.[3] Further,  while the productivity of working people has risen steadily, wages have not kept pace since the late 1970s.[4] Consequently, there is increasing inequality between the top and vast majority of the population. This situation too is intolerable.
We support Armando Arzate's courageous pursuit of justice on behalf of his colleagues and commend the work of our students, alums, and colleagues (including staff and administrators) who not only attend to these matters of injustice, but also take action to redress them. We are reminded by the recent incident concerning construction at Vanderbilt Divinity School of the need for communication among all parties, the imperative to portray all parties as accurately as possible, the necessity of sharing information, the importance of advocacy and solidarity, and the power of peaceful protest.
On behalf of the faculty,
James Hudnut-Beumler
Amy-Jill Levine
Bonnie Miller-McLemore
Joerg Rieger
Phillis Sheppard
[1] https://divinity.vanderbilt.edu/about/Living%20the%20Commitments.pdf
[2] https://www.epi.org/publication/wage-theft-bigger-problem-forms-theft-workers/
[3] https://www.cnbc.com/2018/04/10/today-isnt-equal-pay-day-for-black-latina-or-native-american-women.html 
[4] https://www.epi.org/productivity-pay-gap/
Posted by Sophia Agtarap on September 4, 2019 in Creating Change, Feature, News
---

We are delighted to share that The Reverend Laura Mariko Cheifetz (pronouns: she/her) is joining the Vanderbilt Divinity Staff as Assistant Dean for Admissions, Vocation, and Stewardship. Laura's first day will be August 15, 2019.
Laura is currently the Campaign Manager for "Flint: The Poisoning of an American City," a feature-length documentary, and adjunct staff for Montreat Conference Center's 2019 Women's Connection conference.
She served as the Deputy Director of Systems & Sustainability of the National Asian Pacific American Women's Forum, a national organization whose work in immigrant rights, economic justice, and reproductive rights & health is done through a reproductive justice framework, and was responsible for development, grants administration, operations, and human resources, including spinning off from a fiscal sponsor and becoming an independent non-profit organization. Before that, Laura was Vice President of Church and Public Relations at the Presbyterian Publishing Corporation (PPC) in Louisville, KY. She helped provide strategic leadership in publishing, edited a quarterly devotional with a circulation of over 80,000, engaged with regional and national church bodies on behalf of PPC, and served as a spokesperson for the organization.
Prior to PPC, Laura served as Director of Strategic Partnerships at the Forum for Theological Exploration (formerly the Fund for Theological Education) in Atlanta, GA, working with new pastors and partner institutions and organizations committed to developing the next generation of Christian leadership. Before that, she was director of the Common Ground Project (formerly the Asian American Discipleship for Vocational Exploration, Nurture, and Transformation Project, or AADVENT Project), expanding a program for Asian Pacific American young adult Christians and pastors to include Latinx and black/African American young adults and pastors in engaging vocational discernment and mentoring for the next generation of diverse Christian leadership. She also served at a bilingual urban church (Mission Presbyterian Church) in San Francisco, and as an intern at the Presbyterian United Nations Office, coordinated the Presbyterian Church (USA)'s participation in the United Nations World Conference Against Racism, Racial Intolerance, Xenophobia, and Related Intolerance.
She is a contributing editor to Inheritance, a magazine amplifying the stories of Asian American and Pacific Islander Christian faith. She is the co-author and editor of "Church on Purpose: Reinventing Discipleship, Community, & Justice" (Judson Press) and contributor to "Race in a Post Obama America: The Church Responds" (Westminster John Knox Press), "Leading Wisdom: Asian and Asian North American Women Leaders" (WJK), "Here I Am: Faith Stories of Korean American Clergywomen" (Judson), and "Streams Run Uphill: Conversations with Young Clergywomen of Color" (Judson). She is co-author of the "Forming Asian Leaders for North American Churches" entry in the "Religious Leadership" reference handbook (SAGE Publishing). An occasional contributor to various blogs, her piece "Race Gives Me Poetry" for "Unbound: An Interactive Journal of Christian Social Justice" won the Associated Church Press 2016 Award of Excellence – Reporting and Writing: Personal Experience/1st Person Account (long format).
Laura is multiracial Asian American of Japanese and white Jewish descent. She was the fourth generation of her family to be born in California, and grew up in eastern Oregon and western Washington. Laura has a B.A. in Sociology with a minor in Spanish from Western Washington University, an M.Div. from McCormick Theological Seminary, and an MBA from North Park University. She is an ordained minister in the Presbyterian Church (U.S.A.), and has served on various boards, national and international ecumenical bodies, and has been president of two homeowners associations. She is currently the co-moderator of the Special Committee on Per Capita-Based Funding & National Church Financial Sustainability for the Presbyterian Church (USA). As you might imagine, she is well-versed in people and politics.
Laura and her partner, Jessica Vazquez Torres, the National Program Manager for Crossroads Antiracism Organizing & Training, currently live in Decatur, GA with two rescued Shih Tzus. They enjoy all their nieces and nephews, and hope to be such fabulous aunties that the kids smuggle good booze to them in their retirement home. In their free time, Jessica bakes and Laura delivers the baked goods to friends and neighbors.
Posted by Sophia Agtarap on July 26, 2019 in Feature, Admissions, Laura Mariko Cheifetz
---
2018-19 Vanderbilt Divinity School and Graduate Department of Religion
Distinguished Alumni Award recipients

Divinity School Recipient: Dr. James A. Sanders
Claremont, CA
Vanderbilt Divinity School, Nashville, TN B.D.'51
Vanderbilt University, Nashville, TN .   B.A. '48 
James A. Sanders was professor of intertestamental and biblical studies at the Claremont School of Theology (CST) from 1977 to 1997, while concurrently professor of religion at the Claremont Graduate School. Prior to going to Claremont Sanders was professor of Old Testament first at Colgate Rochester Divinity School in Rochester NY (1954-65) and then at Union Theological Seminary and Columbia University in New York City (1965-77). After formal retirement in Claremont in 1997 he was visiting professor of Old Testament at Union Theological Seminary/Columbia University in New York City for the year 1997-98 and adjunct professor of Old Testament at Yale University Divinity School the spring semester of 1998. He served also as visiting professor at Jewish Theological Seminary in New York City in the spring of 2001.
Sanders founded the Ancient Biblical Manuscript Center in Claremont in 1977, the year he moved from New York to Claremont. Under his direction the Ancient Biblical Manuscript Center houses the most complete and best preserved collection of archival quality films of the Dead Sea Scrolls in the world; museums in Jerusalem and elsewhere in the world have ordered films of the Scrolls from the Center.
He has overseen the publication of The Dead Sea Scrolls Catalogue and Index used by scholars around the world, and with West Semitic Research at the University of Southern California has published a diplomatic edition of films of Leningradensis (Eerdmans, 1998), the oldest complete Hebrew Bible in the world taken by the Center's photographers in Leningrad/St Petersburg in 1990. He became president emeritus of the Center in 2003.
Sanders has been presented with three volumes of essays (Festschriften) published in his honor: A Gift of God in Due Season, ed. by Richard Weis and David Carr (Sheffield, 1996); In Quest of Meaning in Context and Intertextuality, ed. by Craig Evans and Shemaryahu Talmon (Brill, 1997); and a Special Tribute Edition of The Folio: The Bulletin of the Ancient Biblical Manuscript Center for Preservation and Research 15/1 (fall 1998), continued in 16/1 (summer 1999).
Sanders' scholarly interests bridge the testaments of Christian Scripture with focus on the Prophets, the literature of Early or pre-Rabbinic Judaism, including the Dead Sea Scrolls, and the New Testament. He has authored or edited twenty-nine books, and over 300 scholarly articles. He co-authored and co-edited The Canon Debate (Hendrickson Press, 2002). With Dominique Barthélemy of the Université de Fribourg he is co-editor of the (so-far) four volumes of Critique textuelle de l'Ancien Testament (Vandenhoeck&Ruprecht, 1982–).
Sanders is past president of the Society of Biblical Literature, a member of Studiorum Novi Testamenti Societas, the International Organization for Septuagint and Cognate Studies, the International Organization for Targumic and Cognate Studies, as well as other scholarly societies. He is the only American member of the United Bible Society's Hebrew Old Testament Text Critical Project, which has so far published nine volumes of work done since 1969. That work has led to the current international preparation of Biblia Hebraica Quinta, the fifth edition of the scholarly Hebrew Bible that will be used for study and translations throughout the world in the 21st century. In 1961 in Jerusalem he unrolled the large Scroll of Psalms from Qumran Cave 11 (eleven) and published it in two volumes in 1965 and 1967. Sanders has served on the editorial boards of the Journal of Biblical Literature, Interpretation, Journal for the Study of Judaism, and Biblical Theology Bulletin, among others. His book Torah and Canon (still in print) launched in 1972 a new subdiscipline of biblical study called Canonical Criticism.
Sanders has lectured, taught, and preached at colleges, seminaries, churches, and pastors' schools (Protestant, Catholic and Jewish) around the country and Canada. He was Alexander Robertson professor of biblical studies at Glasgow University in 1990-91, and has lectured several times at the Université de Fribourg en Suisse. He recently has lectured by invitation at the Universität Heidelberg in Germany and the University of Michigan, and read a paper in 1999 at the first-ever symposium inside the Vatican sponsored by The Holy Office, on the function of Scripture in the Church–the only non-Roman Catholic so invited. In 2002 he lectured to seminary presidents and deans from around the country at the Getty Center in Los Angeles.
He has over the years received fellowships and grants from the Fulbright Scholarship Program, the Rockefeller Foundation (twice), the Guggenheim Foundation (twice), and the National Endowment for the Humanities.
He has served as annual professor at the American School of Oriental Research in Jerusalem (now The Albright Institute) and twice was senior fellow at the Ecumenical Institute for Advanced Theological Study at Tantur south of Jerusalem (1972-73 and 1 985).
Sanders holds the B.A. degree, magna cum laude and Phi Beta Kappa, and the B.D. degree, with distinction, from Vanderbilt University; a Ph.D. from Hebrew Union College, a Litt.D. from Acadia University, an S.T.D. from Glasgow University, D.H.L.s from Coe College, California Lutheran University and Hebrew Union College, and was nominated for an honorary doctorate by the Université de Fribourg en Suisse.
Graduate Department of Religion Recipient: Dr. Sharon Welch
Chicago, IL 
Education:
Vanderbilt University, Nashville, TN M.A. '77, Ph.D. '82 (Theology)
Graceland College, Lamoni, IA .
B.A. '75, Religion and Psychology (summa cum laude)
Michigan State University, East Lansing, MI, 1971-72
Dr. Welch is a Senior Fellow of the Institute for Humanist Studies and a member of the Unitarian Universalist Peace Ministry Network.
She served as Provost and Professor of Religion and Society at Meadville Lombard for ten years.
She has held positions as Professor and Chair of Religious Studies, Professor of Women's and Gender Studies and Adjunct Professor of Educational Leadership and Policy Analysis at the University of Missouri from 1991-2007. She was assistant and then associate professor of Theology and Religion and Society at Harvard Divinity School from 1982 to 1991.
While at the University of Missouri, Welch was a Senior Fellow in the Center for Religion, the Professions, and the Public, a project leader of the Ford-sponsored Difficult Dialogues Program, and co-chair of the MU Committee for the Scholarship of Multicultural Teaching and Learning.
Dr. Welch is the author of five books: Real Peace, Real Security: The challenges of global citizenship, After Empire: The Art and Ethos of Enduring Peace, A Feminist Ethic of Risk, Sweet Dreams in America: Making Ethics and Spirituality Work, and Communities of Resistance and Solidarity. Dr. Welch is also a regular contributor to Tikkun magazine, and is the author of many articles.
Dr. Welch is the recipient of numerous awards, many of which recognize her excellence in teaching.  Among these are the Internationalizing the Curriculum Course Development Award (2002) and the College of Education, High Flyer Teaching Award (several years).  She also received the Annual Gustavus Myers Award: Honorable Mention for her 1999 book, Sweet Dreams in America: Making Ethics and Spirituality Work (Routledge). She was awarded the honorary degree of Doctor of Sacred Theology by Starr King School of the Ministry in May 2007.
About the award
Vanderbilt Divinity School and the Graduate Department of Religion recognize distinguished alumni/ae whose accomplishments and contributions have had a broad impact and positive effect in various forms of ministry and scholarship.
The faculty has approved the following criteria for the two awards:
The Divinity School award is given to someone who has demonstrated excellence and distinction in justice making through their work in congregational ministry, religious institutions, ecumenical organizations, community –based organizations, government, or other social institutions.
The Graduate Department of Religion award is given to someone whose scholarship, teaching, or research has advanced the understanding of religion and its formative impact in the world.
Previous recipients of the award
2017:
Divinity School Award: Rabbi Stephen Lewis Fuchs, D.Min.'92
Graduate Department of Religion Award: Reverend Dr. Chandra Taylor Smith, B.A.'83, Ph.D.'01
2016:
Divinity School Award: Representative Harold M. Love, Jr., M.T.S.'98
Graduate Department of Religion Award: Reverend Edward A. Malloy, C.S.C., Ph.D.'75
2015:
Divinity School Award: The Reverend Kenneth S. Robinson, M.D., M.Div.'86
Graduate Department of Religion Award: Dr. James L. Crenshaw, Ph.D.'64
2014:
Divinity School Award (two awards were given out this year):
Bishop Joseph A. Johnson Jr., B.Div.'54, Ph.D.'58 (awarded posthumously)
Becca Stevens, M.Div.'90
Graduate Department of Religion Award: Rev. Dr. Thomas W. Ogletree, Ph.D.'63
2003:
Charlotte Hotopp Zachary, Oberlin B.D.'57
2000:
Dr. Gardner C. Taylor, Oberlin B.D.'40
1998:
Dr. Fred Craddock, Ph.D.'64
1996:
Posted by Sophia Agtarap on February 1, 2019 in Feature, alumni/ae
---

By: Katherine H. Smith
Jeremiah 33:14-16
The days are surely coming, says the Lord, when I will fulfill the promise I made to the house of Israel and the house of Judah. In those days and at that time I will cause a righteous Branch to spring up for David; and he shall execute justice and righteousness in the land. In those days Judah will be saved and Jerusalem will live in safety. And this is the name by which it will be called: "The Lord is our righteousness."
The other night, I read my daughters "Yertle the Turtle," the famous Dr. Seuss story of an autocratic ectotherm whose thirst for power is built – literally and figuratively – on the backs of those beneath him. On his insatiable quest to rule the world, only one creature is bold enough to speak up. Way down at the bottom of the pile, a plain little turtle named Mack declares,
Your Majesty, please…I don't like to complain,
But down here below, we are feeling great pain.
I know, up on top you are seeing great sights,
But down at the bottom we, too, should have rights.
Even at such a young age, my children were horrified. How could a community allow its members to be treated in such an exploitative way? Why did no one else speak up?
Later in the evening, house adorned in holiday glow, I found myself reflecting on a recent lecture I'd heard by Michael Gerson, a Washington Post columnist and former presidential speechwriter. Speaking at a conference of theologians, Gerson spoke passionately about the impact of polarization, confirmation bias, and dehumanization in our time. We are witnessing a moment, he argues, in which systematic dehumanization of the other is unfolding in ways that make socially acceptable practices which would once have been unthinkable. "This is my honest fear," he said, "that a new and lesser ideal will take hold, that the strong matter more than the weak, that the winners are superior to the losers, that human dignity stops at certain groups, and certain borders, and certain religions. I am afraid this ideal will invade our laws and our hearts and change us."
We are in the season of Advent, in which the Christian Church looks with awe and wonder to the God who chooses to become human, who puts on vulnerable flesh and ties his fate to ours. This incarnational theology requires a very particular anthropology, one that depends upon a transcendent understanding of human dignity and worth. We have value because we are known and loved by God, not as a single race or class or religious group, but as a beloved, universal community created in God's very image.
The Advent text reveals the prophet Jeremiah, declaring that even as God's people are forced into exile at the hands of those who will profit from their misfortune, God is preparing to raise up one who will bring God's righteousness. It is a justice that will come in the form of human flesh and human action.
Our resistance to dehumanizing rhetoric is humanization. We participate in the radical act of God's incarnating love when we decry cruelty and bullying in all its forms, that which Gershon calls "cosmic crimes." We amplify the voices of those who power seeks to silence. We resist the broad grip of white supremacy, bigotry, and nationalistic xenophobia by listening deeply and holding open our hands to learning a different way. We counter division and degradation, imitating the incarnational God by caring for the neighbor beyond our border just as much as the one across our doorstep.
As we celebrate, in this season of Advent, the great inversion – that God comes not in power but as a vulnerable child – may we embody the transformative power of empathy, love, and solidarity. And may we join with wee Mack, and with bold Jeremiah, in summoning forth the courage to disrupt the status quo to call forth a new, more compassionate, more human vision for God's beloved world.
A native of Nashville, Tennessee and ordained minister in the Presbyterian Church (USA), Katherine has worked in theological education since 2007. Prior to arriving at Vanderbilt, Katherine served as Director of the Duke Youth Academy for Christian Formation in Durham, NC, a youth theology initiative funded by the Lilly Endowment, Inc. in partnership with Leadership Education at Duke Divinity. She also served as Managing Director of Princeton Project 55, Inc. (now AlumniCorps) in Princeton, NJ, a non-profit organization that seeks to construct social change and cultivate civic leaders by mobilizing people, organizations, and networks for the public good.
Posted by Sophia Agtarap on December 21, 2018 in News, Advent, devotional, Katherine Smith
---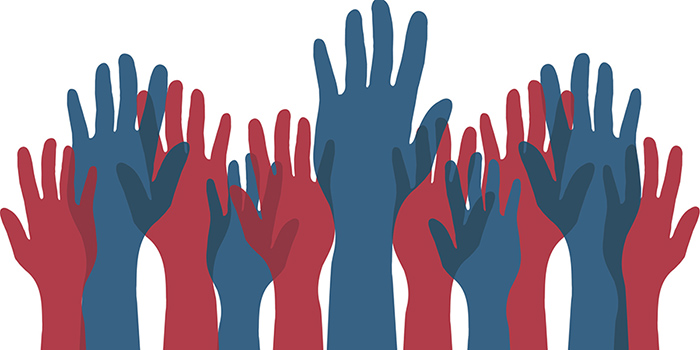 monthly message from emilie m. townes, vanderbilt divinity school dean
One of the most exciting things I did as a youth was to vote in my first election. I asked my folks and other adults over and over again what they actually did behind that curtain. The idea that I would soon be behind that curtain marked, for me, not only a rite of passage, but the act of assuming responsibilities for my right to vote.And we learned the importance of studying the issues. Our teachers recited as mantra the importance of being informed, knowing the issues, not letting others tell you what to do with your vote, studying the issues and the candidates and listening to others as they discussed the issues. There was no hint of spin in the air, but we did learn the power of what has come to be known as dirty tricks. Intimidation at polling places, broken machines and too close electioneering were stock-in-trade in Black and poor white precincts even then. My education included the stories of Black folk going to town hall to register to vote and being turned away by the local police.
In spite of, or perhaps because of these realities, we were told, and I deeply believe, that a strong democracy rests on an informed and voting electorate. So, when I entered the voting both for the first time on Nov. 6, 1973, I was proud to be one of the 1,687 registered voters in my precinct and one of the 767 votes cast from our precinct in our municipal election. And I was not the odd kid among my peers. We were all proud to be voting and some of us even dressed up to do so—like folks used to do to travel by plane.  
You may not dress up to vote these days, but it important to vote your conscience as a citizen of this republic. Please vote—a vibrant democracy depends on it.
Posted by Sophia Agtarap on November 5, 2018 in Dean Townes
---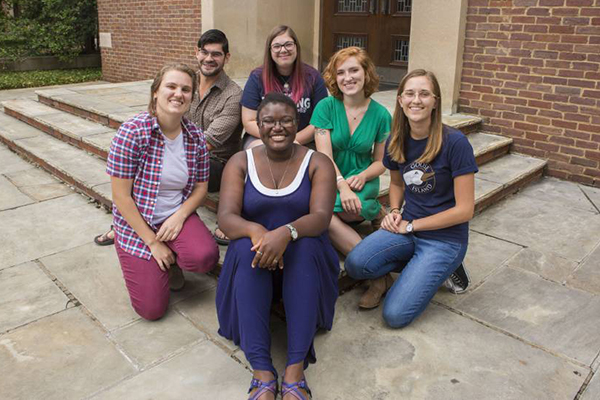 What is community? I am standing here as the representative of our communal body to invite you all into our shared adventure, and as I attempted to write this speech I kept asking myself multiple questions. What did I need to hear as a first year? How do I imagine and reimagine this community? And how do I even propose that vision? But out of the many meditations on what an invitation to community looked like, I was reminded of the fact that questions are what brought me to the divinity school in the first place. Questions called me out of what I thought I'd be doing and brought me to the admissions office. And when I finally arrived into the building as a first-year seeker, what I continued to find in these walls were more questions. And in this new 2018-19 year we have not stopped asking: Questioning how we will be transformed and informed by new beginnings, new architecture, new curriculums, and more changes still on the horizon.
This is a questioning community. We bring our experiences, our doubts, and our certainties and put them through the wringer with the hope that we will find not always answers, but better questions. Positions that bring us closer and closer to the immeasurable and the unanswerable.
So, to this new community, what I have for you as a way of invitation is questions: What do you seek to find here? What do you hope to build? Who do you hope to be? Do you want to be a first year rep?
I hope that in these first few days and next few years you open yourself up to the vulnerability and the boldness that questioning requires, and invite you into a space where we know the work of questioning does not end just in two or three year. We are searchers, theologians, workers, builders, activists, and fighters now pulled together and tasked with creating a community together, and my ask to you all is that you embrace this work of questioning.
So then again, what is this new community?
That is a question for you all.
Welcome.
Julia McCorvey
she/her
President: 2018-19 Vanderbilt Divinity School Student Government Association
M.Div, 2020
Posted by Sophia Agtarap on September 7, 2018 in News
---