The Obed (Crag Review)
PUPPIES!!!!!!!
So many pups. Big pups, little pups, happy pups, chill pups…you name 'em and the Obed has them. Never have I seen so many friendly dogs (and people, for that matter) at a crag. As a dog lover, I did play fetch and tug with many a dog, but if you're not a dog person, many dogs were on leashes. Further, if you like to talk to humans, the Obed also has the most friendly climbers. I'm not sure if its the open atmosphere of the walls or the overall good moods due to amazing climbing, but the climbing community we all know and love is just alive there.
You've probably had the experience at a crag where the only interactions with others is just competing for the good routes and mumbling some sort of apology as you step over people's stuff while attempting to get to another wall. At the Obed, everywhere is a party. Everyone is friendly; people cheer each other on, offer guides, share stick clips, set and clean routes for one another, etc. To say the least, magic is in the air at the Obed.
This also means that you SEND there. Having climbed on limestone for most of my climbing career, I am always ecstatic when I get to climb on sandstone…boy, do they have some sandstone. Every hold (yes, even you little aggressive slopey micro-crimps) is bomber. Of course, you know I got sufficiently spooked on everything (high-clipping per usual), but it really wasn't that bad. Overall, it wasn't outrageously sketchy or concerning; bolts/chains are well placed and in excellent condition. I always want more bolts, but truly the run-outs were nothing compared to King's Bluff, especially since the walls get considerably tall. This also means your 40m is pretty useless…I'd go with at least a 60m. You can get away with a shorter rope on some climbs, but playing it safe with a 60m ensures that you should be able to get on nearly everything without hesitation.
In all fairness, while I love this crag dearly, it may not be the place for very new climbers. There's only a handful of routes below 5.8, and there are some difficult features. However, it is well worth the trip! The Obed has incredible routes, holds, protection, people, and most importantly,
PUPPIES!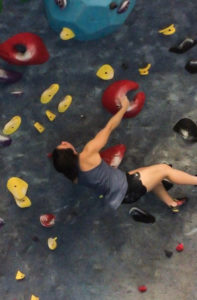 To see more from theDIHEDRAL, visit our website, Instagram & Twitter (@thedihedral), and Facebook (The Dihedral). Meet the team! If you'd like to see more crag reviews, visit our crag reviews page!