Can you explain VU's endowment returns?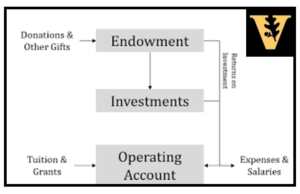 Since endowments typically don't look at 11-year periods, I'll start with 10 years.  Over the last 10 years, Vanderbilt's endowment has returned 4.9% per year.  That ties for 301st out of the 391 endowments reporting 10-year numbers reported by NACUBO.  Among the 93 endowments with over $1 billion in assets under management, it ranks 84th.  Although I've only been at Vanderbilt a little over 5 years (so my information is limited), I'd attribute that to having 3 different chief investment officers over a relatively short period of time.  CIO changes tend to result in changes to the investment team and how the endowment is invested, and that incurs costs.
Since it takes a couple of years to upgrade a team and a portfolio, I'd highlight the last 3 years.  Over that period of time, Vanderbilt's endowment has returned 6.3% per year, tied for 188th out of the 429 endowments reporting 3-year numbers (top 45%).  Among the 93 endowments with over $1 billion in assets, it ranks tied for 64th (third quartile).  Neither peer comparisons are great, but much improved relative to the 10-year figures.
Over the last year (i.e., fiscal 2018), Vanderbilt's endowment returned 12.6%. That ranks 15th out of the 442 endowments reporting a FY 2018 number (top 4%).  Among the 93 endowments with over $1 billion, it ranks 7th (top 10%).  That outperformed some of our country's most elite research universities, including: Harvard, Yale, Stanford, Northwestern, Columbia, Notre Dame, Chicago, Washington University in St. Louis, Emory, Rice, Dartmouth, Pittsburgh, Tulane, and Rochester.
So I think they key message is that we've increased team and portfolio stability, and Vanderbilt's endowment performance is on a trajectory to be proud of.  I hope that explanation helps.
Anders Hall
Vice Chancellor for Investments and CIO