Dr. Maria Hadjifrangiskou (Dr. H or just Maria), is a native of the island of Cyprus in the Mediterranean. She has obtained her B.Sc. in Molecular Biology & Biotechnology from Clarion University in PA, her Ph.D. in Microbiology & Molecular Genetics from the University of TX – Health Science Center & MD Anderson Cancer Center,
Houston. Her post-doctoral training was at Washington University School of Medicine in Saint Louis. In addition to being a bacteriology and a space nerd, Dr. H. loves to run, cook (so lab members have plenty to smile about), read her favorite Fantasy/Sci-Fi novels (Hail to C.J. Cherryh and the Foreigner Universe; and still mourning the loss of Terry Pratchett) and engage in long MTG sessions. Her dream (besides being inducted to the National academy…) is to qualify for the Boston marathon one day… … and meet C.J. Cherryh…
She is very open and urges her students to feel free to come to her office with any questions, suggestions, ideas and concerns they may have. She hopes to run a productive but also a very happy and fun lab. Her dreams are coming true, so far… …minus that Boston Marathon Qualification… and meeting C.J. Cherryh… so far. There is still time…
POST-DOCTORAL FELLOWS
John R. Brannon is originally from the small town of Ralph, Arkansas. He is a blues dancer, scotch enthusiast, and roller derby official. Over the years, John found his way to the Pocono Mountains where he completed his B.Sc. in Biological Science: Pre-medicine with a minor in Chemistry. Afterwards, John journeyed further north to Montréal, Qc where he received his Ph.D. in Microbiology & Immunology from McGill University. John's Ph.D. research focused on antimicrobial peptide resistance and the substrate specificity of omptins, a family of outer-membrane proteases, with an emphasis on proteolytic activity from a physiological and evolutionary standpoint. During this time, he became acquainted with uropathogenic E. coli (UPEC). In the H lab, John leveraged his skills and attention to detail to dissect a new step in the pathogenesis of UTI. His most recent paper (found here: Brannon et al., 2020 ) describes the  presence of intracellular communities in vaginal cells shed by women with recurrent infection. John aspires to establish a research program focusing on mechanisms of UPEC ascension in the genital tract during pregnancy. He is co-mentored with Dr. Aronoff to help establish this new area of expertise.
GRADUATE STUDENTS
Connor Beebout is an MSTP (MD/PhD) student in the Microbe-Host Interactions graduate program. He grew up in Northern California and graduated from the University of California, Davis with degrees in Philosophy and Microbiology. Connor's work in the lab focuses on understanding how environmental factors such as oxygen availability regulate development of resilient biofilms that can resist the immune system and antibiotics. When he's not in the lab, Connor can be found running, geeking out about music, and ogling the Nashville cherry blossoms.
Hamilton Green is a PhD student in the Microbe-Host Interactions graduate program. He is a native of Tennessee, as he was born and raised in Memphis. He completed his undergraduate education at Dillard University in New Orleans with a Bachelor of Science in biology. Hamilton is currently investigating commensal-pathogen interactions and ASB versus cystitis clinical isolates. In his free time, he is a huge fan of the Memphis Grizzlies, casually devours snicker bars ,and enjoys working out.
Melanie Hurst is a PhD candidate in the Microbe-Host Interactions graduate program. She grew up in southeastern Kentucky and graduated from the University of Kentucky with a B.S. in Agricultural Biotechnology and Chemistry. In the Hadjifrangiskou lab she studies how the interaction between two two component systems PmrAB and QseBC drive resistance to polymyxin B in pathogenic E. coli. In her free time, she enjoys spending time in the outdoors, hiking, and swimming. Melanie has an F31 NRSA Fellowship to fund her research. 

Michelle Wiebe is a student in the Microbe-Host Interaction graduate program. She grew up in Elmwood Park, IL and graduated from DePauw University with a BA in biology and a minor in chemistry. Michelle's work focuses on understanding how the two component systems BtsSR and YpdAB interact and alter UPEC behavior. Although microbiology is a close second, Michelle's first true love is soccer.
Tomas Bermudez is a student in the Microbe-Host Interaction graduate program. He is a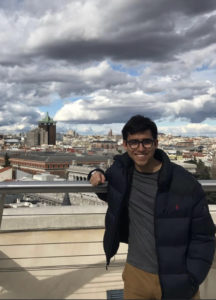 Nashville native, and graduated from The University of the South with a B.S. in Molecular Biology.  He currently is investigating the how uropathogenic E. coli evades killing by the last-resort antibiotic fosfomycin. Alongside Tomas, two very talented undergraduate students, Neha Dudipala and Mia Cecala, assist with different aspects of this project. Outside of the lab, Tomas is a sushi fanatic, an animal lover, and enjoys traveling whenever possible. Dr. H. is thrilled that one more member shares her love for sushi!
 Seth Reasoner is an MSTP student in the MHI graduate program. He comes to the H-lab full of ideas for new projects. As a result, Seth is leading two exciting research areas: One area is focused on uropathogenic E. coli stress responses early in infection and how two two-component systems YedVW and CusSR interact to promote survival in the host. Seth works on this project, alongside Bennett Schneier, an undergraduate researcher in our lab. Seth's second project focuses on dissecting how uropathogenic Pseudomonas aeruginosa establishes urinary tract infection. Seth's scientific partner in this project is Brittany Polevikov.
THE UTI (UNDERGRADUATE TRAINING INITIATIVE)
Bennett Schneier
Brittany Polevikov
Neha Dudipala
Mia Cecala