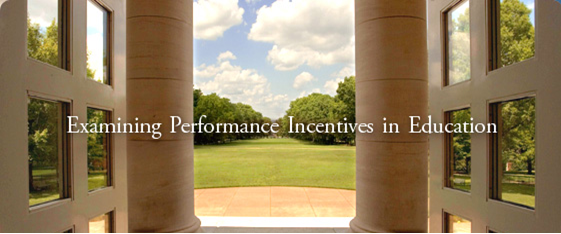 Welcome to the National Center on Performance Incentives (NCPI), a national research and development center for state and local policy housed on the campus of Vanderbilt University's Peabody College, one of the nation's top five schools of education. In the past, the Center was established through a $10 million, five-year research and development grant in 2006 from the United States Department of Education's Institute of Education Sciences to conduct independent and scientific studies on the individual and institutional effects of performance incentives in education. Currently, the Center's work focuses on research related to other grants through the University.
During the past several decades, policymakers have grown increasingly interested in innovative compensation plans, including performance-based pay for K-12 educators. Yet, efforts to reform pay have lacked grounding in a scholarly base of knowledge regarding the effectiveness of such plans. Educators, policymakers, and the greater public should know whether altering traditional compensation practices is an effective path to improving teaching and learning. To that end, the Center's work continues to involve a series of rigorous research initiatives, including randomized field trials and evaluations of existing pay-for-performance programs, in an effort to provide the field of education with reliable knowledge to guide effective policy and practice.
We invite you to learn more about NCPI and our research activities as you explore our website.