Research-related IT resources at Vanderbilt info sessions Aug. 31, Sept. 18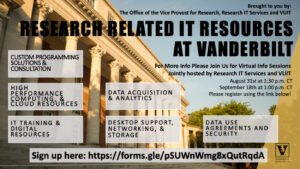 Research-related IT resources at Vanderbilt info sessions Aug. 31, Sept. 18
Custom programming solutions and consultation
High-performance computing and cloud resources
IT training and digital resources
Data acquisition and analytics
Desktop support networking and storage
Data-use agreements and securityFor more info, please join us for virtual info sessions jointly hosted by Research IT Services and VUIT.
Aug. 31 at 1:30 p.m. CT
Sept. 18 at 1 p.m. CT
Register here. >>
Sponsored by the Office of the Vice Provost for Research, Research IT Services and VUIT.