Home » News » Bryan Stromer on Study Abroad
Bryan Stromer on Study Abroad
Posted by Douglas Fisher on Wednesday, September 28, 2016 in News.
On September 14, Bryan Stromer joined us at Warren 503 to talk about his Study Abroad experience last year in Copenhagen. He brought two guests: Ruth Page, Program Coordinator from Vanderbilt's Global Education Office, and Angela Best, Enrollment Services Manager at DIS – Study Abroad in Scandinavia.
We enjoyed Bryan's presentation on his study in Copenhagen, and I reminisced (mostly silently) on my own visits there in the past — clearly, we had been to many of the same places! I was interested to learn that Vanderbilt's study abroad programs, of which there are many, are often organized by Vanderbilt partner organizations like DIS. DIS is somewhat unusual among these partners, in that it offers its own courses and student support, rather than solely organizing through traditional universities abroad.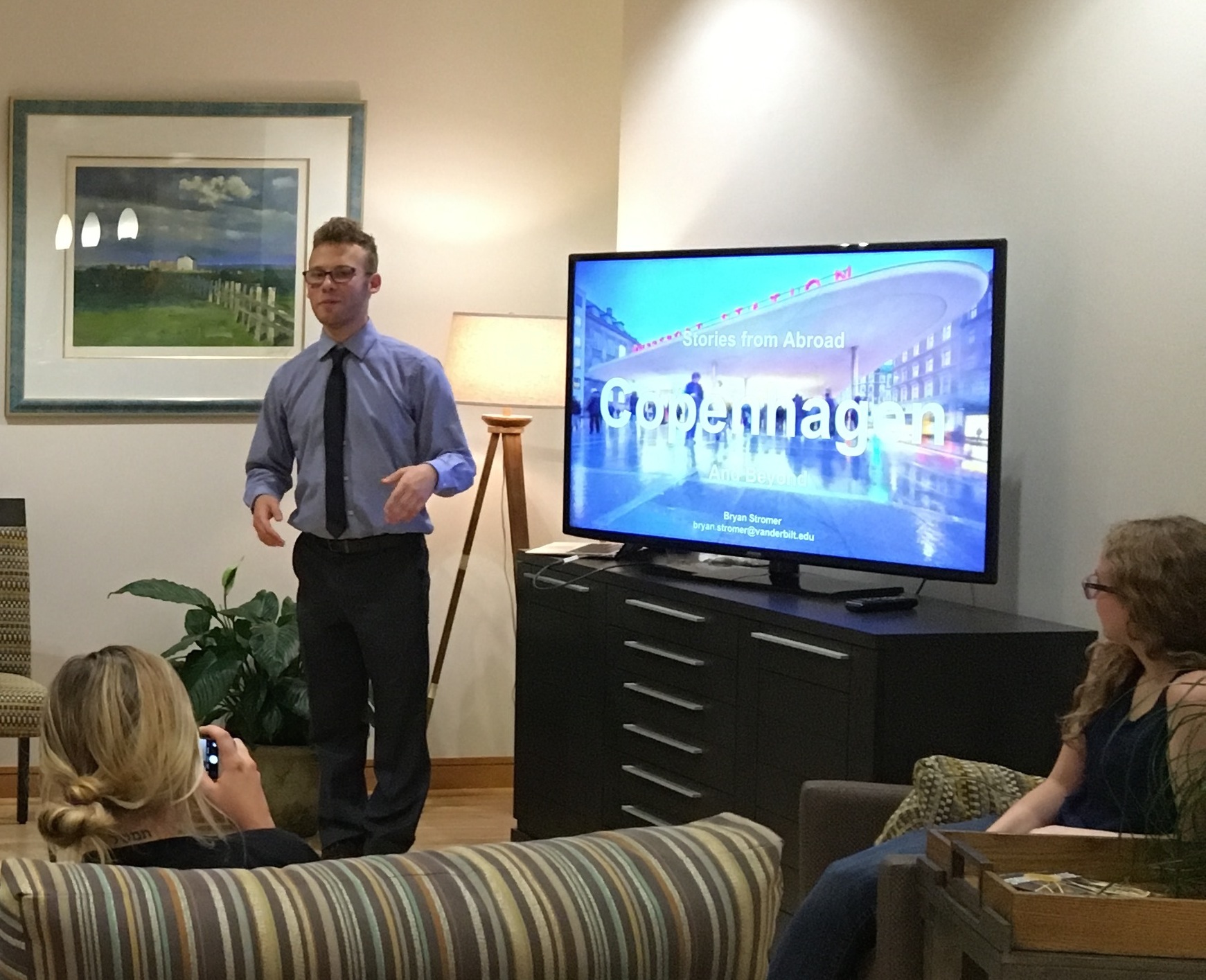 Bryan enjoyed his experience and the support he received from DIS and from Vanderbilt. He was able to take courses that satisfied graduation requirements, including a lab course that he highlighted, and he was able to travel around Europe, meeting up with Vanderbilt friends who were studying elsewhere, and traveling with new friends.
Ruth and Angela left some materials on study abroad, so if you come by for Fresh Baked Fridays, have a seat on our couch and look through it. While I have done assessments of study abroad courses in computer science previously as Director of Undergraduate Studies for Computer Science, Bryan's presentation gave me a new appreciation and excitement for study abroad.
Bryan's presentation was the first of this year's showcase of student expertise, experience, and expression (e³), which we began last semester. We'll have more this year, and if you are interested in presenting to colleagues artistically, or on interesting educational and/or service experiences, let us know. We will set it up!
Doug Fisher is Faculty Director of Warren College. The opinions expressed herein are Doug's, and are not necessarily the opinions of Vanderbilt University.